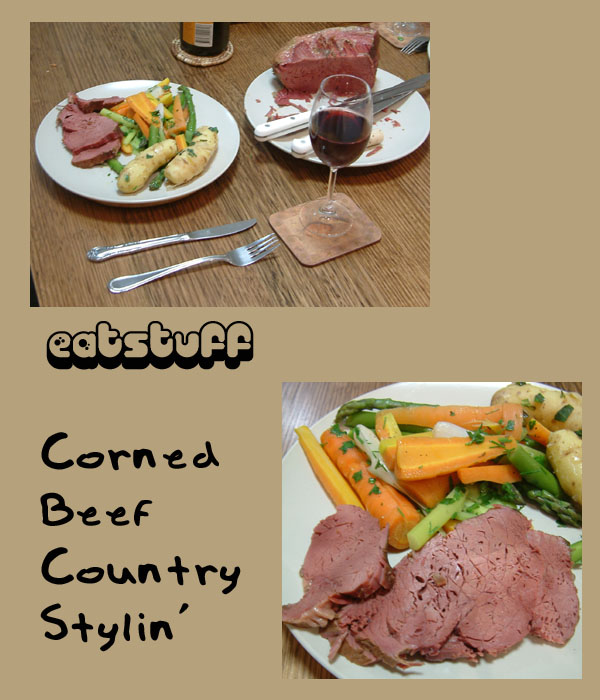 I love the old traditional meals, I can remember my grandma making corned beef and thinking that anything that took that long must be good, and it was! Pictured here is Clare's mum's corned beef, slow boiled with onions, carrots, pepper and spices (mum's secret). Looking good on her country-style stained hardwood table.
This particular meal was especially slow boiled because we had to go to Casualty (ER) to get clare's badly bitten arm seen to. 5 hours later and the beef was falling to peices, while still being flavoursome and juicy. This was Clare's last meal before going into hospital again, and for a whole week that time. Thankfully she's been back home for a week now, but too tired to post this story so I pitched in for her.
The last time I had corned beef (years ago), was at my best friend Ben's Grandmother Maggy's house. She lives on a small farm in Bega, a country town famous for it's old (and still operational) cheese factory, in NSW, Australia.
Her old farm house is awesome, she has a rose garden out the front, a chicken coup out the back, and some cool old cars that will never run again. The power cables were put on the OUTSIDE of most of the interior walls, because the house was built prior to electricity. And every Sunday they have a roast for the extendend family, around the old dining room table with an open fire and a black and white tv, yes black and white in the 21st century.
My favourite was the cakes before the roast, chocolate crackles, honey joys (cornflakes in honey), butterfly cakes (in little patty pans), jam rolls etc... yummmmmmmmmy.