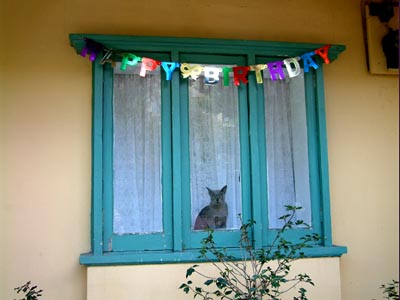 Here is Kiri getting ready for everyone to come to his and Casey's birthday party! HE wants them to hurry up!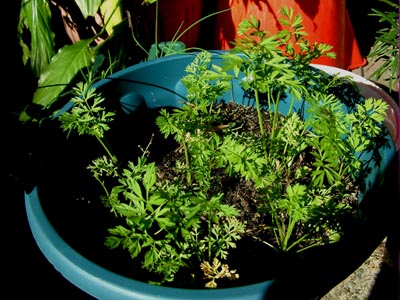 Here are my baby carrots for
Kalyns
WHB 4
! They are growing well!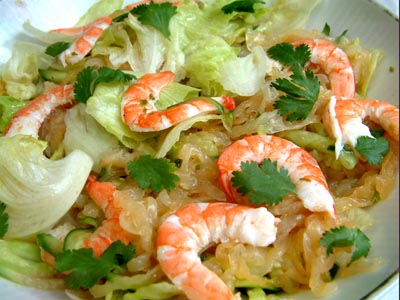 This was Karen's Jellyfish and prawn salad. It was soooo yummy! I think she might have converted quite a few people with this yummy dish! But don't be like Casey's dad and eat too much because you might get indigestion from it. But Karen recommends green tea as the perfect remedy.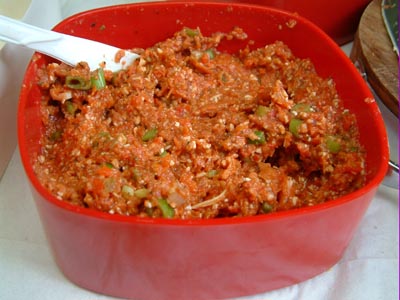 This is Kates Sundried tomato and Pinenut Dip, it is really good! It is fresh and tasty mmmm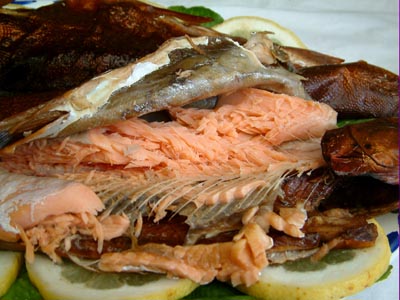 This is Dave and Marg (Casey's Parents) Home Smoked trout, which they caught themselves at their cabin at lake Eucumbene, mmmmmm!!!!!!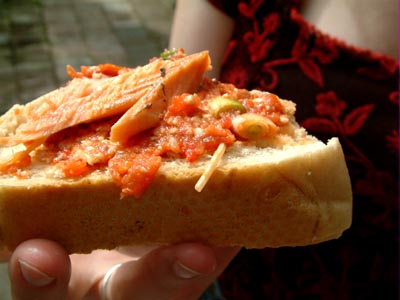 This is Kate modeling her Sourdough, dip and smoked trout sandwhich mmmmm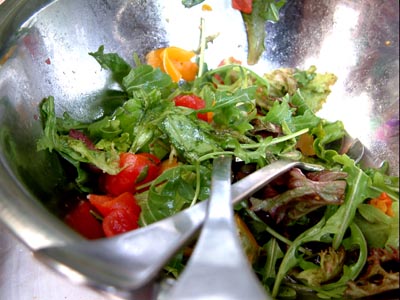 This is our friend chris's Multicoloured squashed cherry tomato and olive salad. Yum! There were comments about his being a guy and able to cook! So if this appeals to you, just let me know ;) as he is desperate and dateless, but smart, good looking and a really nice guy! oh and an awesome
photographer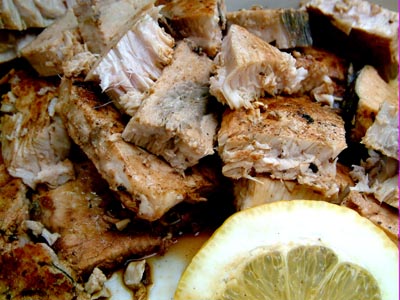 This is a BBQ swordfish, which was one of Casey's favourite dishes, there were also BBQ chilli and garlic prawns, but sadly there were no photos. hmmm they must have disappeared to quickly
These are some Italian Arancini that Jai brought from his fav Italian cafe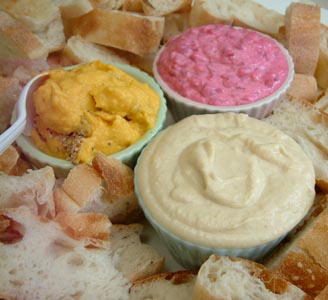 This was some really yummy dip and turkish bread that my Aunties brought for me :) They also assured Casey that being thirty isn't such a big deal (hahahahahah) :P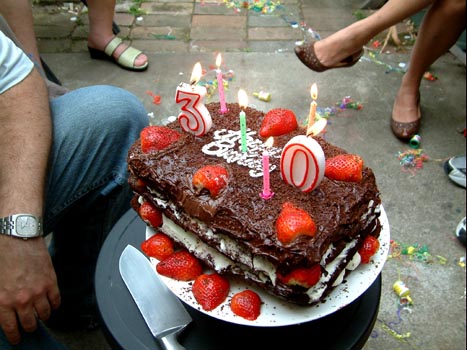 This is THE HUGE four layer devils food/blackforest cake that I made for Casey and Kiri's birthday. My two special boys.... awwwww (love you both!) (yes kiri reads eatstuff!)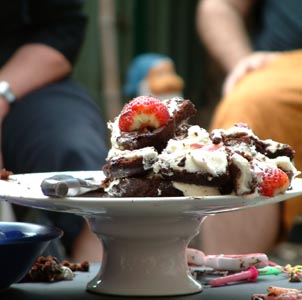 This is all that was left, it kinda collapsed into a glorious mess when it was sliced,as it was defying gravity! and Fresh cream whilst really tasty is like buliding a house on sand LOL!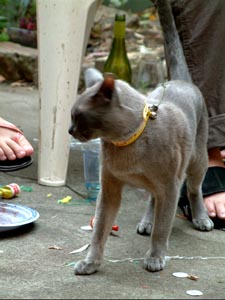 This is Kiri after he had waaaayyyy too many beeers! and is alittle drunk, but one is the legal age for puddy cats!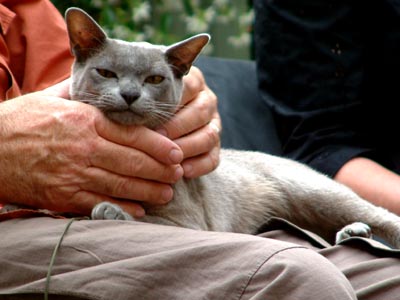 Here is Kiri taking a well deserved break, he had a big day, from being a model in his new suit to greeting guests, and playing. Woah it was hard. But most of all he wants to thank
all his new friends
from all over the world for their very kind wishes, love andthe hard work they went too to make his party such a very special day!