Cat food bloggers unite every weekend and share photos of your gorgeous kitties with us!
If you would like to be included, just leave me a comment with your permalink! and add a "weekend cat blogging" tag to your post!
If you would like to participate in
WDB 6
(Weekend Dog Blogging) please go visit the lovely
Sweetnicks
and send her an email!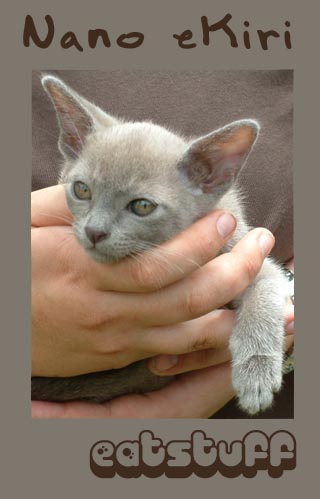 Could you possibly guess who this is? It is my boy Kiri of course! I bet you can see just how I fell in love with him, here he is just 8 weeks old! The next 4 weeks spent waiting to pick him up was torture!
If you want to see my baby boy in action click here to view a movie file that is 500kb and a .wmv . * This is sooooo cute!*!!!!!!!!!!!
So why did I want to show you this extreme cuteness til now? Because next Tuesday the 1st of November is his first birthday!
So next weekend's cat blogging is going to be Kiri's first birthday party!!! He wants all of his new friends to help him celebrate, so please join in! Feel free to bring goodies or dress your puss's up if they feel like co-operating!
Hope you all come!
But for this weekend please:
Check out Matilda's puss testing flowers at Skor i Skralden

Check out the cute
glinda
in a kitty sling! I so want one for Kiri!!!! at
Anne's Food
Check out the growing little
kittens
who are taking over Boos house at
Masak Masak
!
Check out the
pusses
who ardusting to their new found celebrity status at The Food
Pornogropher
Check out
Tigger
basking in thew sunlight at
Look hunny, I cooked
Check out the newly renamed
Bowser
setting in at
A cat in the Kitchen
Check out
Trina
hanging out in the window at
Indyfoodie
Check out the Phi Phi Island asian lucky cat at
Les Carnets de sbmarie
Check out
Baily
the cute fluff ball at
The Moveable Feast Food Blog
Check out the guest kitty
Kitties
at
Kayaksoup
*Pause for a moment for the lost Minnaloushe* I am so sorry for your loss Barbara,
but we welcome the new kitten on the block
Mei-Mei Ari
the adorable fluffball at
Tigers & Strawberries
*Cute Kitten alert*
Check out
Le Chat and P. I. T. A
. (LOL!) at
Heather's Space
Check out
Bussi
enjoying some "Aromatherapy".... HA! sure... at
Basic Juice
Check out
Smudge
, the AMAZING SELF RESCUING KITTY! at
Farmgirlfare
Check out
Miss Domino
the wcb foster kitty rolling around at
Farmgirlfare
Check out the ever fiesty
Mrs Kitty
who is keeping her strength up at
Belly-Timber
Check out
Wellington
the gourmand at
Modern Girls Kitchen
Check out the
Vodka
Cat Recording device at
Cel's Home page
Check out the HUNGREY vocal
Earl
at
So Cal Foodie
Check out
Macroom
, what a good kitty helping Mommy at
Dispensing Happiness
Check out the
nameless one
growing up fast at
Kitchen Mage
Check out
Le Gros Noir and le Petit Tigré
affectionate half cats at
Lali et Cie
Check out
Bella and Tasha
discovering the properties of glass at
A few of my favourite things
Check out
Lucky
and his Mummmy from when he was a tiny baby, wow so cute and tiny! at
The countess
*cute kitten alert*
Check out baby
Charlotte
finding her feet, gee she's cute at
My Adventures in the Breadbox
Check out
Tinker
chomping on some grass (wow, another grass conisouer!) at
Middle Fork
Check out
Maruschka and Fridolin
having a cuddle at
Rosa's Yummy Yums