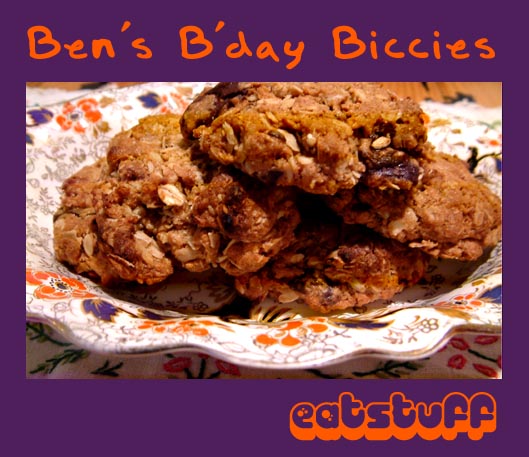 So this is it,
THE
post you have all been waiting for.... does the oven work or is it from the land of infinite sadness.
Well go on, actually look at that picture. OF COURSE IT *#&%&% well WORKS !!!!! YAYAYYAYAYAYAY
Clare is soooooo happy! As you can see, these are Ben's Birthday Biccies. Why does Ben deserve biccies... because he is sweet, we didn't get to see him on his real birthday and I needed an unknowing yet totally willing and deserving guinea pig, gee life's tough sometimes LOL. Since we had a suprise visit, I turned to the Same Baking by Flavours cookie recipe that I used to test that OTHER oven.. the one I didn't get for long.. well :P:P to you! Cause I have a new oven, that whilst not new cooks just as good as you. NERR and is black and much sexier than you too :P
*Can anyone tell just how late it actually is here? :P*
So back on to the biccies, I think they actually worked better this time. They would want to be good, the last of my butterscotch morsals *sob* and 2 (count them 1, 2) whole blocks of 85% Cocoa Lindt. Damm that stuff is GOOOOD. Also these babys are huge. I hope you are getting through them Ben and Nat and enjoying them too. :) xxxxx *Happy Belated Bday too !*
BTW Do you like my new bowl? It was to go with the cute art deco plate.... but it was a victim to the horrors of moving :( as I told Rachel as she helped me unpack, lucky it only cost 2 bucks!