EkaRia Indonesian Restaurant
393 Illawarra Rd, Marrickville
Ph: 9554 - 6119
owner@EkaRiaRestaurant.com
website:
ekariarestaurant.com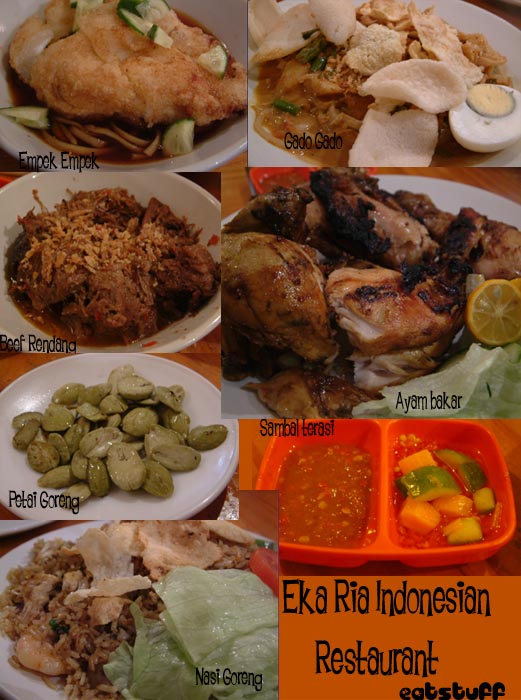 Everyone has one of these restaurants... they feel comfortable, the food is awesome and it is really well priced. Well if you don't, you should. The decor doesn't have to be fantastic, but it does have to be clean with nice atmosphere.
Whilst living in the eastern suburbs we developed an addiction for Indonesian food (yes, it becomes a serious addictionthat requires at least fortnightly medicating). We would go to Kingsford and take our pick of the many Indonesian restaurants, although they were all good they where not all
equal
in our tastes. So when we moved we needed somewhere new to fulfill our cravings. Well we did, and boy are we satisfied I mean look at that food... and yes it really is that good.
The food here is fantastic... this is what we ordered:
Empek Empek
is an egg stuffed fishcake in a spicy sauce and noodles.
Gado Gado
mixed steamed vegetables with a spicy peanut sauce.
Beef Rendang
, slowly cooked beef in a chilli and coconut.
Ayam bakar
marinated and bbqed chicken.
Petai Goreng
fried stink beans.
Sambal terasi
chilli and shrimp paste sauce.
Nasi Goreng
, Indonesian fried rice. All of this for less than $40! (enough for 4) There Empal goreng is good too.
The Stinkbeans sound kind of scary, well they did to me at first, but they have a really good flavour, the smell is different but not bad. I want to try the Nasi Petai Goreng next time.
The Ayam bakar here is awesome, we have even managed to get my Auntie seriously addicted.... muah ha haha haha :) I love it with the Sambal terasi, I always ask for some more.. mmm definately the best way to have chicken. Their Ayam goreng (fried chicken is really good too, but then you dont get the bbq flavour). If it just casey and I, I get a bowl of sour vegtable soup and a ayam bakar dada... heaven!
So if you are in Sydney and want to try some awesome Indonesian or have a hankering for the best chicken in town then get yourself to my favourite little Indonesian restaurant in Marrickville.
*NOTE* IT IS NOT OPEN ON THURSDAYS! (But I really wish it was)