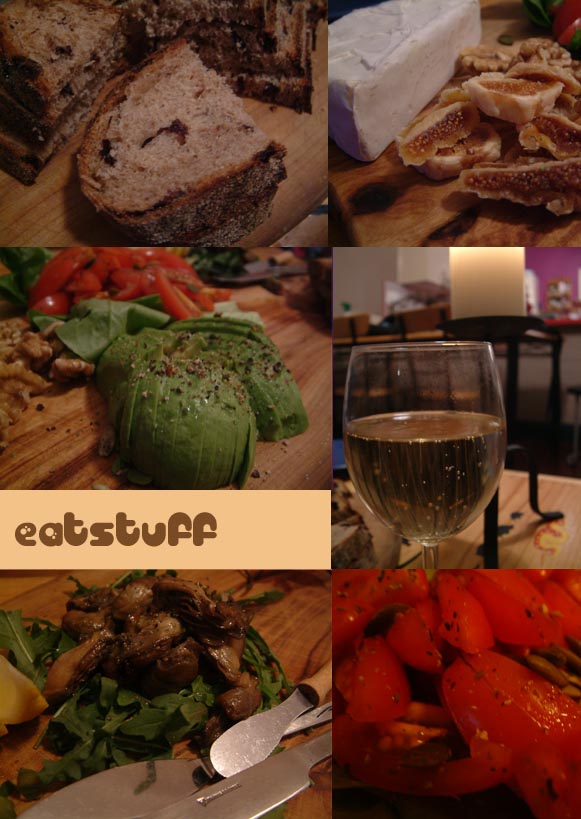 My Poor Boy had a hard week at work. So I figured that he needed a special meal to cheer him up, the only problem is, I was really tired, and not in the mood to cook (Me? wow that is weird). So whilst I was going on the usual shopping trip I realised a meal of some of his favourite nibble would do the trick very nicely.
Square 1: Sour Cherry Sourdough from the Brasserie bakery which is sold from
Allpress Espresso
Epsom rd Roseberry. This is gorgeous bread that my mum bought for me. They also serve really good coffee that they roast them selves, sandwiches, and these little brioche tarts with plum (just have to pick my tongue of the floor)
Square 2: King Island Double Brie, love that stuff. White Greek Figs, OMG they are beautiful soft, and tender with a beautiful perfume taste. These were bought from the Natural Grocer Outlet shop. If you live in Sydney and want nuts, or dried fruit GO HERE, they are cheaper and fresher than anywhere else. I will try and get the exact address if asked in the comments, or I could describe it there.
Square 3: Fresh Hass avocado with Salt and Pepper mmmm and Walnuts from the Natural Grocer outlet.
Square 4: Sir James Cuvee Brut Pinot Noir and Chardonnay, from Liquor land Broadway on sale for $12 from $20. I had never tried this Sparkling wine before, and when I went to purchase a lovely wine for my surprise nibble party I could not pass this by. The funny thing is I had a joke with the serving girl and said perhaps this wine might ruin me for my usual drinks, and she said "you will be back to buy the lot". I cold have never guessed just how right she was. This wine was lovely, it has been matured on Yeast lees for 12 months, it is smooth fragrant with a dry crisp finish. In other words absolutely perfect.
Square 5: Smoked Oysters on my mothers rocket. We love these, Yum.
Square 6: Tom thumb Tomatoes , sprinkled with pepitas and marinated with balsamic vinegar and S&P.
So what was the best bit? The Sour Cherry Sour dough spread with Brie, figs and walnuts. It was perfect.