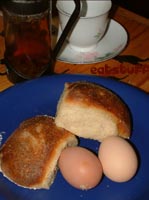 On the weekend I made some pizza with my very basic dough recipe. After having read a little I decided to try Autolysis of the dough, it worked really well, I saved a third of the dough to experiment with, so I placed it in the fridge to rise slowly overnight. So I woke up the next day and decided to make Case a surprise eggs on toast with bread rolls from my dough made fresh and hot in the morning. OMG was it good! Did you know that before I met Casey he had never had Salt and Pepper on boiled eggs before? Wow I was stunned, let me assure you. And it is what he said when he tried it for the first time ;) . Ever since I was a little grl having breakfast and my Oma and Opa's I have loved boiled eggs on toast, and I have been eating them spread out over toast since then. But you need to have the best eggs you can buy, as long as they are free range. Come one have you seen Baraka people or what?
Can you see the Plunger of tea in the background? Well this tea is changing my life, It is fantastic!
It is a Sikhm Temi SFTGFOP-1 ... (have you heard the tea joke TGFOP means To good for ordinary people )it was a little expensive at $10 for 100gms but every cup is worth it, it smells like honey(but good???), caramel and is very floral. Hopefully I will have a good source for very good tea very soon... and when I do I will share people I promise... muah ha ha ha.. *cough*cough* sorry I don't know what I was thinking.