Oh Chorizo, what did I do before I met you? You spicy sausage who gets all crispy and caramelly when fried.
We have discovered a source for beautiful fresh chorizo sausauges. From the butchers in Marrickville or Dulwich Hill. They are so much better than the ones you buy at the Supermarket. The rest of their meat is much better value as well, andmuch better quality.
So tonigh we found ourselves with 3 of these beautiful babies and were undecided with what to do with them, they would have gone perfectly on top of the bean soup, perhaps next time. So I made a Chorizo Risotto ( I know you might consider this an abomination but it was really good!). Normally I add tomatos, and make it like a pilaf, but I decided to live on the wild side :) and I am glad I did.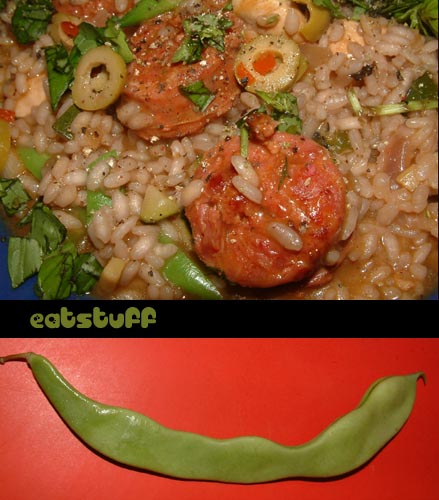 Have you used these beans before? They just call them continental beans here and I am sure they must have a better name than that. They are really tender, there is no string and they aren't too 'beany' in flavour. These are the beans that I have used in the risotto. If you want to try them, steam or boil til bright green and toss with herbs and butter or olive oil and salt and pepper.
Chorizo Risotto
3 fresh chorizo's (poached then sliced)
1 chicken breast, cubed
beans sliced
2 onions, diced
8 garlic cloves, minced
1 tbsp of harrissa
3 anchovies (put them in whole, please try even if you dont like them)
2 baby zuchinni diced (you could replace or add carrot and zucchini or fennel)
2 cups of aborio rice
1/2 cup of wine
Stock ( I just have a big pot boiling and add extra water if required, use what the packet tells you
salt and pepper to taste
1 chargrilled capsicum diced
1 handful of stuffed olices sliced (use the best olives you can, preferably still abit crisp)
parmesan cheese
Fry chorizo slices and chicken breast til cooked. Remove and set aside. Cook Beans in Boiling water til just cooked, remove with a slotted spoon and refresh under cold water. Retain water and add 2 bay leaves and a handful of pepper corns (this is my stock, replace with what ever stock you want).
Saute onions, garlic and zucchini til soft, add rice anchovies and harissa, saute for 2 min. Add wine and deglaze the pan. Cook as per Risotto (cup of boiling stock and stir til absorbed repeat til rice is al dent or how you like it). Then add extra spoon of water, chorizos, beans, chicken chargrilled capsicum and parmesan. stir and put lid on for a few minutes. Remove lid stir and dish up. Top with olives and herbs and extra cracked black pepper. Yum! I think a squeeze of lemon juice would have been really good in this too.