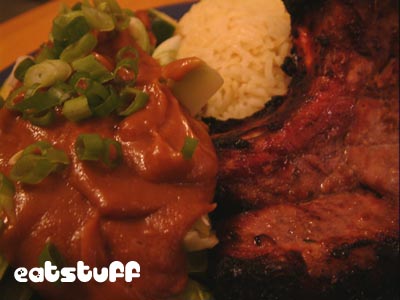 I have to say that I llluuurrvveee Indonesian food, it is so very very very addictive.
I don't know what everyone in the rest of the world hears, but there has been alittle hassel between Australia and Indonesia at the moment. I think it is all phooey. I was actually inspired to make Indonesian tonight when I saw the lovely photos that
Reid
took in SF. It is the end of the shopping cycle, so I didnt have all of the ingrediants I wanted, but I did have some lovely Pork Chops. So I thought I would give them an Indonesian inspired marinade, with some modified gado gado(steamed vegtable salad with peanut sauce) and Nasi Kunning (yellow rice). I was missing a few things like Sambal Terasi (dont get me started I might cry), fried shallots, eggs, potates etc... but what can you do? I wouldnt trade this for anything. Because I didnt have everything I needed I did cheat alittle bit. I used a gado gado sauce mix and a packet for the Nasi Kunning. But unlike other packet mixes, most good indonesian mixes have no artificial flavourings or preservatives. But I didnt cheat on the marinade for the pork, and I am rather pleased with myself how it worked out. The same marinade would also work well on chicken, or beef. So you have this lovely mean and you want to know what is the perfect drink to accompany it ? Well, it's Jasmine tea of course :). If you are unable to get packets or would like to make the Nasi Kunning or Gado Gado from scratch let me know ;)
Indonesian style Pork Chop (enough for 4 large Pork Chops)
1 inch of ginger and galangal
1 1/2 cm chunck of Belacan (shrimp paste) wrapped in foil and cooked on a gas element for a 5 minutes (yeah it stinks , get over it, it does taste good!)
5 cloves of arlic
2 chillis (more or less depending on how hot you like it)
1 Bay leaf crumbled (hopefully not too old)
Kecap Manis - I didnt measure, it is too sticky but a far bit. (it should be quite thick though)
Put all the ingrediants in a food processor and blend to a paste.
Coat both sides of the chops with the marinade and leave to marinade for at least an hour. Scrape excess marinade off. Cook either on the bbq or in a really hot oven on a wire rack above a tray with alittle water on it until the chops are cooked.
Serve with rice, gado gado, some sambal terasi. Yum!