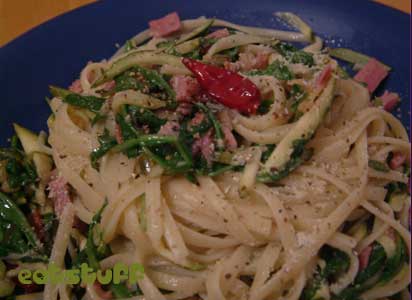 Casey comes home hungry from work demanding pasta. But we have no tomatoes (???) to make his favourite. So in a moment of brilliance I attempt to make a future contender for his affections. I have been thinking of rocket and pasta since
Michele
has been talking about it.
This pasta is easy, tasty with alittle heat and tang. I am so happy, but was Casey ? Well I think he still holds a great tomato and tuna pasta very close to his heart... but this might be a very close second!
1 Big handful of Rocket
4 cloves of garlic, thinly sliced
3 dried chillis or fresh, whole (cut a slit in the side, or as many as you like)
1 big spoon of capers
1 big slice of lemon rind, thinly julienned
3 anchovies
1 lemon, Juiced
1 zucchini, julinned
Ham or proscuttio or pancetta cubed
Extra Virgin Olive oil
Freshly Cracked Pepper
Grated Italian hard Cheese (I used pecorino)
Bavette Pasta (or what ever you like)
Put a big pot of salted water to boil. When Boiling add pasta and cook til al dente.
In a small nonstick fry pan put a generous 1 cm of olive oil, turn on the heat to low. Add the chillis, garlic and let the oil infuse with the garlic and chilli. After a few minutes add the lemon rind, capers and anchovies, let this infuse as the oil starts to increase in heat. When the pasta needs about another 2 minutes, turn the heat up and add the ham, when this starts to crispen andd the zucchini and toss well. Add the lemon juice (be careful it might splatter) and pepper. Drain the cooked pasta, put back into the pot, add the sauce and rocket and some grated italian hard chesse. Toss well and plate up.