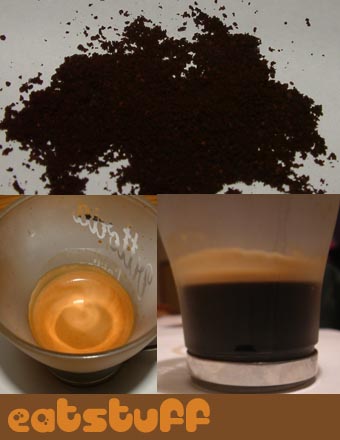 WTF??? I am sure you are probably all saying, well
Caphe cut chon
is a vietnamese coffee that is collected from the ground of Vietnamese coffee plantations (a similar coffee is avaliable in Indonesia and is called Kopi Luwak). The very best (supposingly) coffee cherries are picked out by the Palm Civet, the berries are then excreted semi digested. BUT there is another layer around the coffee beans that is removed before the coffee is roasted, phew (I did find this out before I tried it). Yep, I tried it...
Hmm well I have no idea where to start. A friend gave me enough of this coffee already roasted and ground to try . There is no way that I would ever have gone out of my way to try Caphe cut chon (fox dung coffee) or Kopi Luwak but it was handed to me in a little plastic baggy so to speak. So what was I supposed to do ? Speaking as an adventourous CS of course.
The first thing I noticed was the smell, it smells really, really weird, very sweet, winey and weird. I just dont know what to describe the other scent as, sorry.
The coffee was not ground finely enough, so I reground the coffee, and I hoped it might help "refresh" some very stale coffee. So I packed up my little grans portafilter and crossed my fingers, the pour was a little quicker than I would have liked, but not to bad otherwise. I actually got crema, which I was happy about, but it was lighter and about a 1/3 or a 1/4 as thick as normal. (home reasted fresh coffee from cs)
So on to the most important part and what you are all reading this for (apart from the giggle factor of course)
The taste was not as bad as I was expecting, the espresso still had the same smell the grounds. There was actually alittle acidity which was pleasant and necessary, if it wasn't there the taste would have been much worse. There was no bitterness and there were notes of wine, blueberries, caramel and chocolate (??? I think) but still that really weird indescribable note. The aftertaste lingers (still just there, like a really nice coffee) and is quite nice, except I can stll "smell" that weird smell and that is not at all pleasant. As the espresso cooled, the acidity dissapeared and the taste became cloying and undrinkable.
So was it as scary as I thought it would be? Well no. But that "smell" really gets to you after while and becomes nauseating. Would I try it again? Well maybe if it was freshly roasted, but I still wouldnt go out of my way, and if that smell was there I definately wouldn't have it again. But at least I can say I wasn't too chicken to try it.