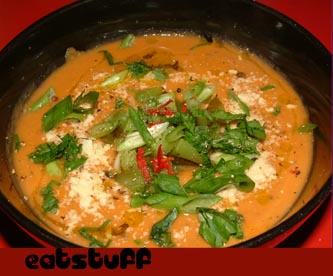 My friend Michele over at
Oswego Tea
made the most enticing looking
Tuscan Chicpea soup
. I am not sure what made me drool so much, whether it was the photography or the idea of a soup made from chickpeas and tomatoes. I went to make the soup and realised that my packet of dried chickpeas had been taken over by weevils, yuck! So, the soup remained in my memory but I forgot to buy more chickpeas when I went shopping. On friday night when I was looking over my fav blogs and thinking about making dinner, I just happened to see the Tuscan Chickpea soup again. So I was not able to make her soup exactly, but I instead made a homage. It was awesome.
This is a really easy, hearty, creamy soup that is very filing.
Tuscan Bean soup
olive oil
2 red onions, finely diced
1 carrot finely diced
8 cloves of garlic, minced
4 tins of beans (what ever taked you fancy I used a mix of butter, cannelini and borlotti beans and lentils) drained and rinsed
1 tin of italian tomates
1 tbsp of harrisa (optional)
2 dried bayleaves
3 anchovies
4 cups of water
1 capsicum chargrilled and diced
salt and pepper to taste
1 lemon juiced
fresh herbs (I used parsley and spring onions)
1 thinely sliced fresh chilli
freshly grated parmesan or pecorino
Saute onions, garlic harissa paste and carrot a. Add tinned beans, tomatoes, bayleaves, anchovies and water. Simmer for 20 mins. Remove bay leaves. Puree till creamy, adjust flavours with salt and pepper and lemon juice. Bring back to the simmer.
Serve in warmed bowls sprinkled with herbs, chargrilled capsicum, chilli , cheese, a grind of fresh pepper and a sea of good extra virgin olive oil.
This soup is a whole meal, enjoy with some fresh bread and a glass of good wine. It is really, really good.I was told that we would not be having the leftovers for lunch on Saturday as Casey NEEDED to take it to work for lunch during the week (Who's to say that wasn't my plan all along ;) )