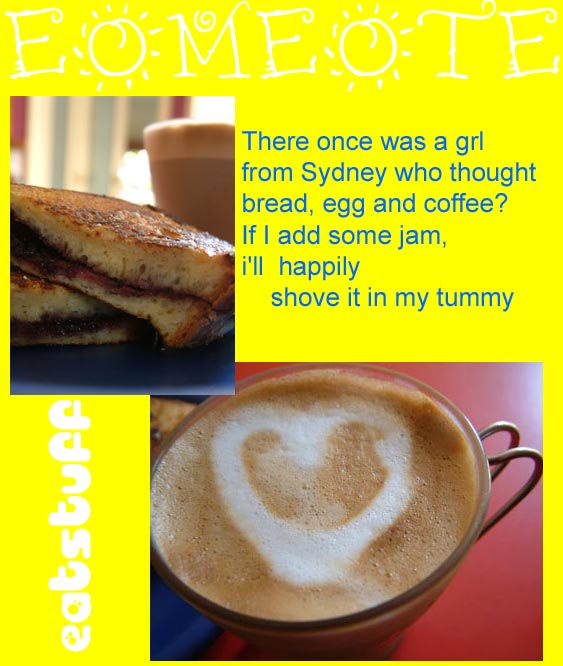 OMG, I am so embarrassed that is the worst limerick I have ever read (and I wrote it...)
well we should just ignore that for now.. If you want to read more just like it (but better) then visit the roundup at
cook sister.
So what is that weird looking looking thing in the top corner? It is my entry for EOMEOTE of course. I have been hankering for French toast ever since I saw
pinkcocoa's
awesome
second entry for SHF
. I couldn't just make French toast though, and I was tossing up if I should make something savoury. Then I remembered that I had some Cows nest Blackberry Jam care of Casey's parents. This is awesome jam, very old scool, it comes from the Cobargo Markets and it is made by hippies from Wild blackberries. It is thick, fruity and puts all other blackberry jam's to shame. mmmmmm
So I figured that if I sliced some nice Italian Bread thinly, spread one side with the Cows Nest Jam and dipped the whole lot in a mixture of egg, a drop of milk, a little orange zest a pinch of sugar and a tiny little bit of salt which has been beaten together. The eggy bread is then fried in alittle butter till the outside is nice and golden, my tongue is hanging out of my mouth, I think my hankering for French toast is building again.. Oh well....
You just have to make this next Sunday for your loved ones, even if you are only thinking of them because of the Jam they cared enough to share with you (thanks M&D). I had this with some of my freshly roasted coffee and it was sooo delicious, see my heart isn't it cute?