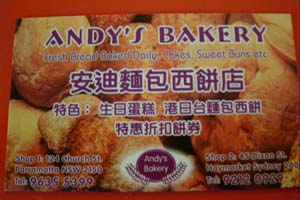 Well as you probably already know, I went to Andy's Bakery
before
and I reviewed their Matcha (Powdered Japanese Green Tea) goodness. Well I went there today, and low and behold they had
more
Matcha goodness, a Matcha roll and cheesecake. Well, if you know me, I love this stuff, so I was stoked. I managed to convince Casey to buy me a roll and a cheesecake. When I asked the girl for the cakes, I very nicely asked for a box, as I wanted to ensure that the cakes would come home in photo worthy condition. I was told that I could not have a box unless I bought four cakes, I was sad :( . Then I had to ask if I could buy one, 50c I was told, I was happy again. But this is where the trouble began, the girl who took my order did not deem me worthy of her cake getting ability and pawned me off to a colleague. We payed for the cakes and left on our merry way home. Much to my dismay, when I arrived back home very excited to photograph my cheesecake, it was not there! I was duped I had a matcha mousse cake instead. I was so upset, I had already reviewed this, and taken photos. So I thought I would call them as I took their business card, I was rather rudely told in not so many words, "Well it's not my fault, how do I know your not lying?" I was rather put off at this bad treatment. I asked if I could come in another day to get a cheesecake. No I could only replace the cheesecake if I came straight back. Where did this girl get off, she was very rude and why would I go all the way back into the city straight away? I have been ill and the only reason I was there at all was because our friends
RnR
had come down from Cowra for Mother's day. So I am not very happy, this was not a good day to get me off side, this is why I am telling you my friends to be careful! and check your cakes before you leave because their customer service stinks.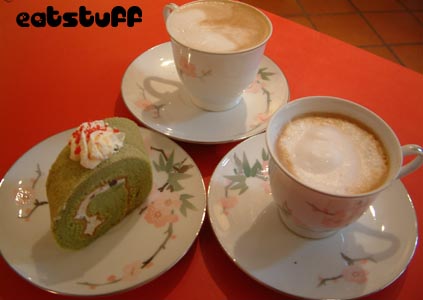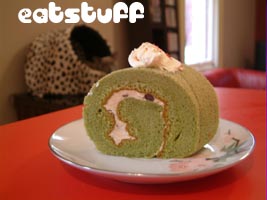 Ok, onto the nicer side, was the cake any good? Well it was a
green tea roll with red bean filling $1.20
it was great, except for the horrible faux cream on top. Why ruin a perfectly good cake with that crap? Sigh. But do you see my very cute cups and plates? They are courtesy of my very, very kind mother :) They hold 150mls (perfect for a double shot latte) and hold the heat remarkably well, and they are awesome to sip from as they are nice and fine with a nice lip. So expect to see much more of my beautiful pink sakura and bamboo tea cups.