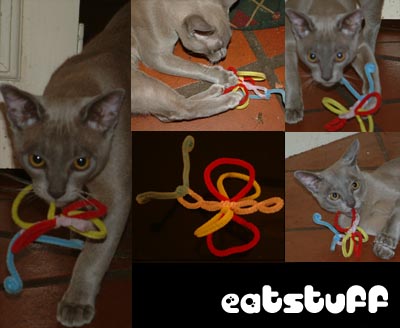 I know this post is not really about food, but this blog isalso about a cat eating stuff, and look kiri is eating stuff. Come on, it's in his mouth. Surely that's pretty close to eating stuff... kinda? Well it's definately cute,and contains kiri, and that definately ensures it counts around here.
I made kiri one of his favourite toys a pipecleaner butterfly. He was so cute, he even fetches and plays catch, actually he demands that you play with him, but it's lots of fun and good for all of us.
P.S Come back tomorrow I will have my post for
Wine Blogging Wednesday
up, So Think Pink! and an extra matcha post!