Superbowl (seafood)
35 Goulburn St
Sydney NSW 2000
Phone (02) 9281 0928
My Auntie's partner is away, so we thought that we should go out for a super cheap eat spectacular meal. We could not decide were to go, we almost went to Seoul Ria (Korean)(where I have not been yet, but can't wait to go) but they decided the wait was way to long. My Auntie had not been to Superbowl,it was right across the road and we had spent ages wondering around Chinatown and we were hungry.
I don't know if this is true, but we have heard that if you are going to go to Superbowl go to the Goulbourn St Restaurant as the service and food is heaps better than the other restaurant on Dixon St. We are always amazed at the opening hours of this restaurant, it's open till like 3am so keep this in mind if you are ever in the city late and are hungry.
When it came time to decide what to get it was not hard,
Pipies in XO sauce, Salty Spicy Squid, Fried noodles with Shredded duck and preserved vegetables and Seafood and Pineapple fried rice.
Well I don't have the prices today... But all up it was $48 and it was HEAPS of food as you can see. Sorry for the photo but I was just about to get into trouble for taking them in the restaurant.
The main acknowledged problems with Superbowl are the waiters and the cleanliness. When ever we have been there we have not had a problem though, although the decor definitely leaves something to be desired, it does not quite pull off the cheap sheik of the other cheap restaurants we frequent.

Pippies in XO sauce
(in the middle of the photo on the RHS, at the front is the shell bowl) are perfectly cooked, and arrive very quickly, in like 5 minutes. I like my XO sauce HOT, really hot, they don't quite manage this here as it is probably a little westernised as many Chinese restaurants don't believe we can eat HOT food. But I still get it all the time, so it can't be that bad.

Salty Spicy Squid
(back of the photo), is fantastic, the squid is tender, perfectly cooked with just the right amount of salt. The "deep fried seaweed" and chilies are perfect accoutrement. I would definately recomment this to anyone who eats here.

Fried Noodles with Shredded Duck and Preserved Vegtables
( Middle LHS of photo) We had not had this dish before, it was good, but a little lacking in flavour compared to what I was expecting, I would get this dish again though.
Seafood and Pineapple Fried Rice
( behind the pippie shells) Casey loves this fried rice, he is a bit of a fried rice fiend. This dish is not actually on the menu, just ask for it anyway seems to be the secret system around here. We only found out this dish from a previous visit to Superbowl with our friends
RnR
. If you go here, try this rice it is awesome.
This was a great meal, the food was served quickly, was fresh hot and really tasty. I defintely recommend Superbowl (Goulbourn St) for a quick easy and cheap meal. We had so much food that we could not eat it all.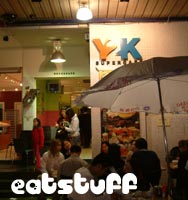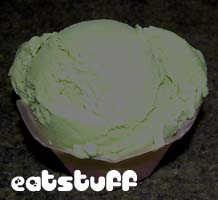 But we did have enough room for our fav chinatown desert Gelato from
Y2K Supercafe
. I know this must sound weird, Gelato in Chinatown? but the flavour range just can't be beat. I generally alternate between the Rasberry Sorbet and the Matcha Gelato. Today I went Matcha! yay! This is full strenghth, they do not hold back on the Matcha powder, and I am so glad. If you are a fan, go here, it is smooth, rich and very creamy. A single scoop is $3 and a double $4.50, after our meal I could not finish a single scoop though. Y2k also do great desserts that you have to eat there, I will go back for photos soon I promise. If you are in the area and want something different but not as expensive as passionflower go here you wont be dissapointed.