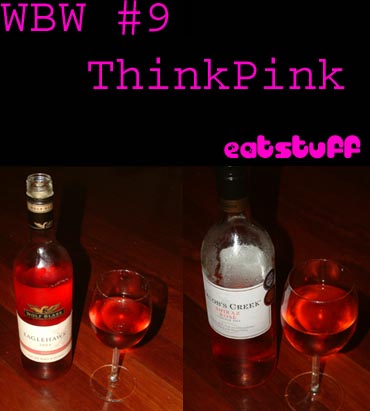 Well as you can see, this is my first online food blog event. Since Sam from
becks'n'posh
chose such a cool refreshing and fabulous wine colour for her wine event; how couldI resist? Well obviously I couldn't.
Well I have to admit I did not choose these wines, Casey did. Casey decided to go to the darkside with this wine choice, maybe because of the new star wars movie coming out? But, I just know there are lots of people out there how drink "cheaper" wines so we thought that we would compare 2 of the most easily accessible Rose wines in the Australian marketplace.
Wolf Blass Eaglehawk & Jacob's Creek Shiraz Rose
Both of these wines were purchased from Liquorland at Surry Hills, Sydney and they both cost $10.49. Although the store kept neither of them chilled in the refrigerator. I will review both wines in the order that we tested them.
Wolf Blass Eaglehawk
2004
Rose
This wine is sweet and has a very berry fruity taste, not just strawberry like the Jacob's creek. The main problem was the lack of scent. This wine is not as dry as the Jacobs creek, but it is only a medium in sweetness compared to other Rose's.
Jacobs Creek
Shiraz Rose
Vintage 2004
Out of the two wines, this was our favourite. It has a nice light strawberry scent, with a dry finish. I would have liked a stronger scent with this wine as well, this wine is towards the drier end of the Rose range.
We liked both wines, the only problem (kind of) is that the Rose drinking season is drawing to a close in Australia. I guess we will be back onto the Shiraz's, what a pity. If you find these wines for less than this, on sale perhaps? You should give them ago for a refreshing partner to a pasta.