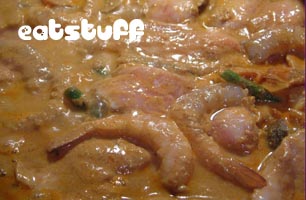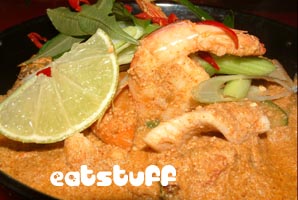 We were both feeling like some fish, so off to the Sydney Fish Markets we went, to look and decide what we wanted to make. We almost got flathead, but decided that we should make a Chuchi Fish and Prawn Curry with some Red Fish Fillets and Yamba Prawns, yummy! Red Fish, are a nice fish that is cheap ($6 kg) that has white flesh, but will hold together in a curry like this. Replace with any other similar fish, or just Prawns etc. Yamba is in the Northern Rivers area of New South Wales and they are known for their Prawns, sadly though(kinda), you can purchase Yamba Prawns cheaper at the Sydney Fish Markets than in Yamba.
To make the Kaeng Chuchi Pla I used my favourite South East Asian Cook book: South East Asian Food by Rosemary Brissenden. This book is a fantastic resource for authentic South East Asian recipes it covers: Indonesia, Malaysia and Singapore, Thailand, Laos, Cambodia and Vietnam. It not only covers the food, but also the culture associated with the food, which I find really interesting and it is almost 600 pages long! Well anyway I think it rocks. I have included a link to it at Amazon if you are interested, although they do not seem to have the New Edition which is available in Australia (Rosemary is Australian).
I did cheat a little though and used a Maesri brand Chuchi curry paste that I altered a little... If you use a bought curry paste like I did please make sure that it does not have any preservatives etc .... If you would like the paste recipe let me know and I might put it up too.
Ingredients
500g fish fillets
5 large green prawns per person or equivalent (Shrimp in America, but these were large 10 prawns weighed 340g)
1 cup of thick coconut cream ( I used powdered coconut powder)
1 cup of coconut milk ( I used powdered coconut powder)
1 tin of Maseri brand chichi curry paste
1 stick of lemongrass
1 inch chunk of ginger and galangal
2 cloves of garlic
Mixed vegetables eg: beans, mushrooms, carrots, tomatoes, capsicum
1 tbsp fish sauce
1 tbsp palm sugar
1 lime
Garnish: 1 finely sliced: red hot Thai chilli, spring onion and coriader leaves and/or Vietnamese Mint
Method
Place the head and shells of Prawns in a pot with a tsp of oil and cook till they turn red. Then cover with water and simmer for 5 minutes. Use this Prawn stock to reconstitue the coconut cream powder (as per packet instructions).
Process lemongrass, ginger, galangal and garlic with the Chuchi curry paste till smooth. (if you don't have a processor either use a mortar and pestle or very finely chop the lemongrass, ginger, galangal and garlic and add at the same time as the paste.
Boil the coconut cream hard, stirring all the time, until the oil starts to bead on top. If you are using tinned coconut cream you might need to add a tsp of peanut oil to help this process. Add the paste mix with the extras added to it and fry until the spices have become fragrant, mixed and thick. Add the coconut milk in parts and stir well after each addition. Season the liquor with the fish sauce and palm sugar to taste, cook until thick and oily. Add vegetables, fish and prawns, bring back to the simmer and gently cook until the fish and prawns are cooked. Serve in bowls on rice vermicilli (or rice) with the chilli, coriander, Vietnamese mint and spring onions sprinkled on top. Enjoy!
Casey kept repeating how awesome this dish was, and that it was the best chuchi he had ever had :). So Please try it, if you have any questions let me know in the comment section and I will help all I can.
Note: It also works well if you fry a whole fish and pour the curry sauce with vegetables on top, esp if it is a Barramundi or Pink Snapper :)