Hey everyone,
I thought I might let you in on a secret, but you can't tell anyone ok?
The new film with Heath Ledger and Geoffrey Rush is filming outside my house! and at the local Chicken Express (I have never been there, kind of like a KFC variant, maybe I should do a review...? ) Anyway how cool is that. The movie is called Candy, and they make lots of noise... but it's ok. Maybe I might get a shot and post it here, but NO PROMISES :)
Well I got a photo, it is very dark though, but you can see the trucks!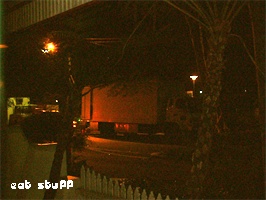 We also saw Kelly Slater at the airport on the weekend, the paparazzi went right past him, which was very funny and very cool. It would have been a great photo, he was using his laptop propped up on a bin. No I didn't get his autograph, I think everyone needs their privacy, and we got to people watch and he did not even realise.