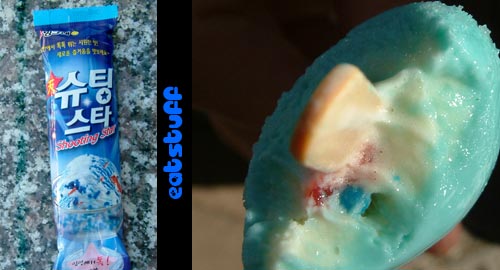 Oooh Doesen't that look good? Well it is the incredibly cute shooting star ice cream which is going to be the start of a new segment here at eatstuff Korean Icecreams...
I love them, it all started with honeydew melon flavoured which are so good. But I will get to them at a later point.
So why are Korean Ice Creams so good? Well the flavours are crazy (always fun), they are very different to the run of the mill Aussie ice creams, and they are cheap! This cute Shooting Star Ice cream $1.20, can you do better for that? I think not. I think I should stop blabbing now and get to the point. The flavour was bubble gum on the outside with those popping things (the blue bubble in the photo) that make your mouth feel like it is exploding, vanilla on the inside with a strawberry centre. It wasn't unbeleviable good, but it was fun! So let go of your inhibitions and go try something different.