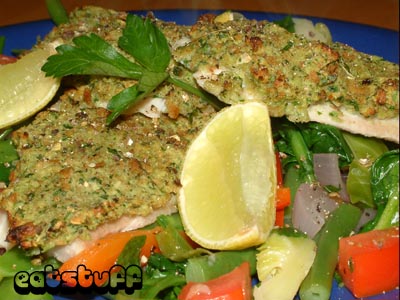 Does that not look yummy and fresh? Well I am telling you it was. I still had some Red fish fillets left over fromdinner last night Chuchi that Kiri had not yet devoured, so I thought that I would steam some veggies and bake some fish. I was not expecting it to look that good though. It was really easy, healthy (yes mum) and tasty. This is totally my own recipe too :)
Ingrediants
Crumb topping
1 cup aprox of Fresh bread crumbs (made from a hunk of oldish italian bread)
1 stick of lemon grass
1 fresh thai chilli
3 cloves of garlic
1 handful of fresh parsley
Pepper and salt to taste
1 egg
1 inch of ginger
6 red fish fillets (these are small fillets, replace with any fish fillet you like, adjust for how many people you are cooking for)
Veggies
Mixed vegtables to steam I used brussel sprouts, beans, snow peas, red onion, capsicum. (enough for how many people you are cooking for)
1 tomato (per 2)
1 bunch of spinach
1 clove of garlic
1 lime
i handful of fresh italian parsley chopped
salt and pepper to taste
Preheat oven to aprox 180C (my oven of despair sucks and the thermostat is broken.. so this is the temp I would use if I could)
Pulse bread in processor, remove add herbs and puls til finely chopped, add bread, pulse, add egg, pulse.
Place fish on a piece of baking paper on a baking tray with alittle olive oil on it. Top each piece of fish with the crumb topping and drizzle alittle olive oil on top. leave for 5 minute.
Put fish in oven, bake for 10 mins (my fish fillets were small, take into account the fish you use and how long it willtake to cook) the topping should be set and golden.
Put a pot of water on to steam. when boiling add veggies so that they will all be cooked how you like, I like mine crisp. You might want to stagger when you put them in, I did. Aim to have the veggies ready at the same time as the fish.
Chop tomato, garlic, parsley and spinach, add alittle olive oil and lime juice to dress, when steamed veggies are ready toss with this mixture and divide between plates. Top with fish fillets fresh from the oven, crack some fresh black pepper on top and serve.
How easy is that. 15 minutes and dinner is served!
Note: If you dont have the thai flavours try your own fresh herb mix(eg parsley, basil, thyme), and some grated parmesan :)