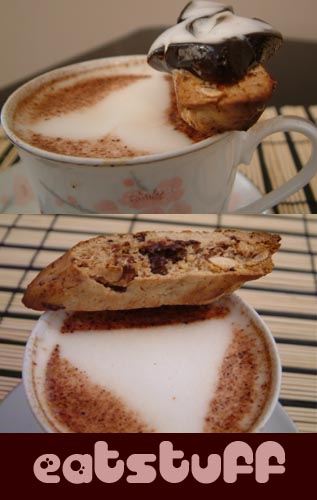 Well after seeing all the coffee jelly's and wishing I had made biscotti with almonds and chocolate I made some of both :)
Guess what? I liked the lemon Mandarin and Pumpkin seed Biscotti better, how weird is that? The Pumpkin seeds worked so well with the citrus flavour, I really recommend trying that combination,
So for the reworked coffee, I made some espresso Jelly with my home roasted coffee (Cause I am NEVER GOING BACK to preground crap), by making enough double shots to equal 500mls, with 50 mls of sugar and I set with 11/2 tbsps of Gelatine ( I wanted a really firm set).
I set the jelly in some funky shaped Ikea molds (not that good an idea, as it was hard to get the Jelly out) and I served it with a cup of frothed hot milk with a biscotti and milk foam on the jelly.
Cool huh? It tasted great as well.
The cool slippery Jelly, melted in my mouth with the warm textured milk, it not only tasted great but the textures well great as well.
*NOTE* I froze the rest of the coffee jelly in the ikea molds, and they came out easily and tased brilliant! yay!