I have had serious blogiing preventing internet issues the last couple of days, screw you unwired! So here is a semi make up post, hopefully internet permitting I will have my SHF post up tonight :) It is someones special day today ;) no not mine!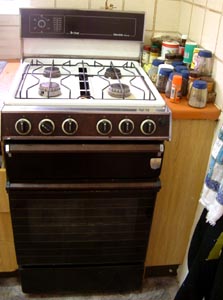 Ok, so as per the
request
and all the interest I have received about my new oven I thought I would show you a photo of him. Yes, he is older than my previous toy oven, he is also dark and handsome .. don't you think? I must say though, that his previous mistress had NOT looked after him and he required a good cleaning! I know that
Sam
knows just how I feel. Apart from the bad introduction, he does appear to be on his best behaviour.
Since everyone liked the look of my Yummy biccies, I thought I would share the altered recipe. PLEASE use the best and darkest chocolate you can, as they will be too sweet otherwise. If you live in OZ and can't get butterscotch morsals, like me anymore add some more chocolate, or perhaps some nuts.
I also upped the oatmeal in the recipe, to put in as much oats as I could stir in. I also kept 1/3 of the mix in the fridge for acouple of days and baked them then, they were still great! They just didn't rise quite as much.
Chocolate Butterscotch Oatmeal Cookies (Makes HEAPS!!!)
ChocolateButterscotch Oatmeal Cookie Dough
2 cups wholemeal plain flour
2 teaspoons baking powder
3/4 teaspoon baking soda
1 teaspoon salt
3/4 teaspoon freshly grated nutmeg
1 teaspoon cinnamon
250 gms butter, softened
1 cup of firmly packed dark brown sugar, sieved if lumpy
1/2 cup raw caster sugar
2 large eggs
2 1/2 teaspoons pure vanilla extract
1 tablespoon hot water
2 1/2 cups quick cooking (not instant) rolled oats
1 cups butterscotch flavored chips
1 cup of dark chocolate, brocken up. NOT CHIPS and as dark as you can get
Preheat the oven and prepare the cookie sheets.
Preheat the oven to 180c. Line the cookie sheets with lengths of parchment paper, set aside.
Mix the Butterscotch Oatmeal Cookie Dough
Sift the flour, baking powder, baking soda, salt, nutmeg and allspice onto a sheet of waxed paper. Cream the butter in the large bowl of a freestanding electric mixer on low speed for 4 minutes. Add the light brown sugar in two additions, beating on moderate speed for 1 minute after each portion is added. Add the granulated sugar and beat for 1 minute longer. Blend in the eggs, one at a time, beating for 1 minute after each is added. Blend in the vanilla extract and hot water. On low speed, add the flour mixture in two additions, beating just until the particles of flour are absorbed. Scrape down the sides of the mixing bowl with a rubber spatula to keep the dough even-textured. Blend in the rolled oats. Dough texture observation: The dough will be thick and moderately stiff. Work in the butterscotch chips and chocolate, using a wooden spoon or paddle.
Spoon the dough onto the prepared Cookie Sheets
Drop rounded 2 tablespoon size mounds of dough, 3 inches apart, onto the lined cookie sheets. Place nine mounds of dough on each sheet.
Bake and Cool the Cookies
Bake the cookies in the preheated oven for 10-12 minutes or until softly set and light golden in small patches here and there on the surface or edges of the cookies. Let the cookies stand on the sheets for 1 minute, then transfer them to cooling racks, using a wide, offset metal spatula. Cool completely.
Freshly baked, the cookies can keep for 2 - 3 days.