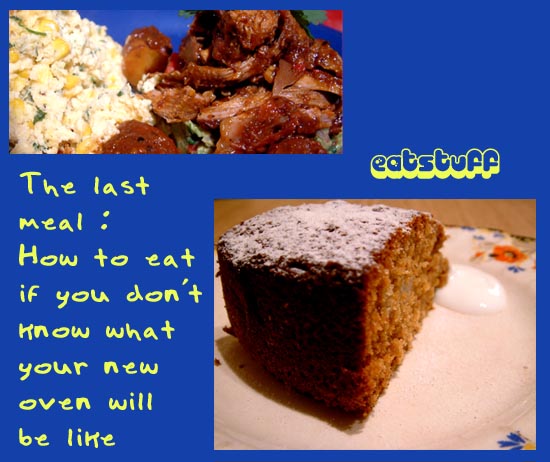 Well that's it. After all the pain and suffering and whinging to get a new oven, we just ate the last real meal to be cooked on/in it. Geez it was good :) . I hope the oven at the new place isn't as bad as this one, if it is, I will be livid! At least I had *some* time too cook and fawn, but now that time is over and we are moving on! Not always a bad thing, I never told you about the bags, and bags, and yet more bags of plane tree leaves we had to sweep up *shudder* but no more! Or, the visitor in the roof... that will be a nice suprise for the next tennants ;)
I did have one regret though, that I have not yet cooked a mole from the dried, smoked chillis that
Alberto
so kindly sent me from Germany. I am not sure why, but I have wanted to have 2 specific friends (K&J) over when this is pulled off and we have not been able to arrange a playdate *sigh*. I decided that there is no way that I can leave here and not use them at least once (I have been saving them and have been sorely tempted sooo many times). So, tonight I had no excuse, it was either use them here and now or never here again. So I did.
I made a mexican inspired (no claims at authenticity) lamb shank. With a molesque sauce, fresh corn spoon bread and guacamole/avacado salsa. I am pretty proud of myself too! All new recipes, either inspired by or altered by me. Considering, I am very happy :)
The lamb shank, was tender and melting, but still held it's shape, the sauce was fiery and well rounded in flavour (how it compare to the real thing I have no idea). The avacado salsa made a perfect creamy accompiant with enough flavour to hold it's held through the fiery sauce. The fresh corn spoon bread, souffle like was tender, with a golden crust, and sooo corny , no not as in a bad joke, but flavoured of corn, it is mild and tasty, the fresh parsley added the "freshness" I felt it needed. I have never had, or made a spoonbread before so for a first try I was excstatic :) (casey even asked for seconds )
For dessert, of course there had to be cake. Do you not remember the whinging I did about my inability to bake cakes? ( I know
Nic
does :) ). Plus I figure, a slice of fresh ginger and pear cake (inspired by Molly at
Orangette
) will be perfect as a morale booster with a hot cuppa whilst lugging heavy boxes. The cake turned out moist, fragrant and tasty. The chopped fresh honey pear are so much better in this dish than I thought possible. I served this with a spoonful of organic natural yogurt, the perfect foil to the cakes sweetness.
I know I have gone on about the food more than usual, I don't know if it is bad or good, but please humour me as this will hopefully serve as a reminder to the many meals and good times we have had here!
Now, on to the future. I will be moving and cleaning and finishing packing for the next few days, hopefully I will post.... but I can't guarentee anything... So til next time: Be Happy and Eat Well friends!
*sorry about the photos the tripod has already been packed away*
Potroasted Mexican Lamb Shanks
(This is just an outline and the method would work perfectly with a whole leg of lamb or more lamb shanks. Our Shank was large and perfect for a meal for two! There is plenty of sauce for more meat so don't double the amount for more shanks)
Soak Smoked Dried chillis in just enough water to cover (I soaked one each of the 3 kinds that Alberto posted to me)
To a blender or food processor add
Chillis, 4 cloves of garlic, 1 tsp cumin seeds, 2 tsps coriander seeds, 1 tsp tumeric, 1 tsp hot chilli powder (substitute paprika if you would like it milder), 1 fresh long red chilli. Puree, add enough soaking liquid from the chillis to make a smooth paste.
Brown off lamb shanks in a large Enamel casserole pot ( I used my le Creuset saute dish).
When brown, remove the lamb, add the spice paste and fry this off til the flavours start to smell toasty, add 1 sticl of cinnamon, 3 bay leaves and 2 cans of tomatoes you have pureed.
Bring the mixture to the boil, add lamb back and turn down to a gentle simmer, put the lid on and leave for 1 1/2 - 2 hours, checking occastionaly to stir the sauce and turn the meat over.
Fresh Corn Spoon Bread
based on this
recipe
from epicurious
ingrediants
1 tin of light and creamy evaporated milk (plus 1/4 cup extra)
1/3 cup yellow polenta
2 cups fresh corn kernels (from 2 to 3 ears)
1 tablespoon unsalted butter
1 teaspoon salt
4 large eggs, separated
3 table sppons of fresh chopped parsley
Good grind of freshly cracked black pepper

Preheat oven to 220C
Bring milk, cornmeal, corn kernels, butter, and salt to a boil in a 3-quart heavy saucepan over moderately high heat, stirring frequently, and simmer, stirring constantly, until thickened, 3 to 4 minutes. Remove from heat and cool 5 minutes, stirring occasionally, then whisk in yolks. Grind in black pepper to taste.

Beat whites and a pinch of salt with an electric mixer at medium speed just until soft peaks form. Whisk one fourth of whites into cornmeal mixture in pan to lighten, then fold in remaining whites and fresh parsley gently but thoroughly. Spread mixture evenly in a buttered 9 1/2-inch deep-dish glass pie plate or 1 1/2-quart shallow casserole and bake in middle of oven until puffed and golden, 15 to 20 minutes. Serve immediately (like a soufflé, spoon bread collapses quickly).
Makes 6 servings.
Fresh Ginger and Fresh Pear Cake
Based on this
recipe
from Epicurious and inspired by
molly
1/2 cup honey
1/2 cup natural yoghurt
1 stick (1/4 cup) unsalted butter, melted
1/2 cup firmly packed dark brown sugar
2 large egg
4 teaspoons finely grated peeled fresh gingerroot
1 teaspoon freshly grated lemon zest
1 tablespoon of glayva (brandy, whisky etc)
2 diced perfectly ripe, peeled pears
2 1/2 cup wholemeal plain flour
1teaspoon baking soda
1 teaspoon baking powder
1/4 teaspoon salt


Make cake:
Preheat oven to 180C. Butter a non stick round tin with quick release edges (sorry having a mental blank)

In a bowl whisk together honey, yoghurt, butter, brown sugar, egg, ginger, glayva and zest until smooth, stir through pears and sift in flour, baking soda, baking powder and salt. Stir batter until just combined and spread evenly in baking pan. Bake cake in middle of oven until a tester comes out clean, 15 to 20 minutes. Cool cake in pan on a rack 5 minutes and turn out onto rack.
Serve cake with yoghurt or ice cream and a dusting of raw icing sugar