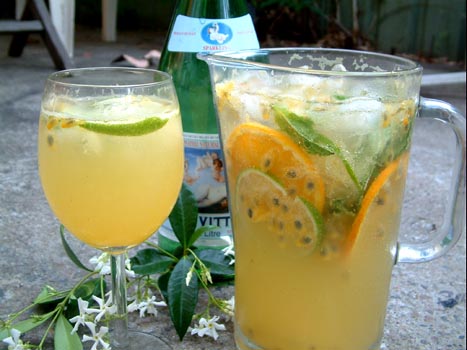 I had to leave a food related post before I went away didn't I? hehehe
Well actually, it was rather warm here in sunny Sydeny today. After my walk, I needed a drink. A cold, refreshing drink. I am not one for drinking sweet sodas *Blurgh*, why would I, When I can have this? This is so refreshing, slightly tangy, alittle fizzy and cold, the perfect drink for hot, sunny days. The basic formula is so easy, some fruit, ice, mint and sparkling mineral water. This version contains passionfruit, lime, orange and mint leaves. Other good choices are strawberries and lemon balm.
If you find this too tart, alittle natural sugar like some apple concentrate would be the perfect sweetner. Please give this perfect refreshing summer drink a try, it might cause you to give up oversweetend sodas too.