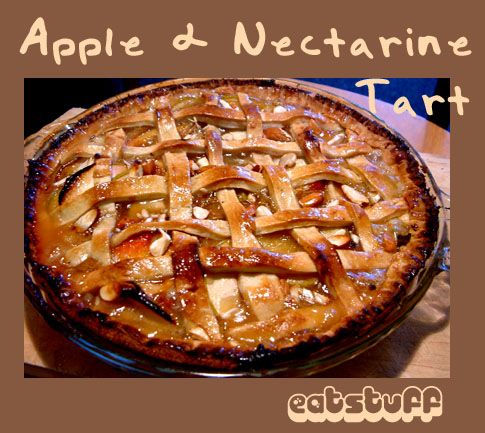 Have I ever told you how much my boy likes pie, especially apple pie? I am not too sure. But I decided to make him a nice big pie too help show him how much I appreciated his kindness whilst I was sick. But, I decided that I was going to make the pie differently from my usual method and try to restrict the refined sugars. I know that to many of you that sounds completly sacriligeous, it doesn't have to though. There are many things that I like full fat/ and hard core full of sugar and butter and goodness, I don't think this means that everything has to be eaten this way. If everything we eat is laden with sugar and butter then it becomes too pedastrian and no longer special. By no means does this mean that this tart was not special, it was, but in a different way than I was expecting. The tart was bursting with the flavours of spring, apples and nectarines with their juicy sweet/tart flavour. Instead of tasing like sugar and cinnamon, the tart tasted like it's namesakes apples and nectartines, what a nice suprise. The recipe for this tart comes from my friend Aine Mc Ateers book "
Recipes to Nurture
", I have a feeling that this recipe is going to go onto regualr rotation here at Chez Eatstuff.
Apple and Nectarine Tart
(adaptaed from Recipe to Nurture by Aine Mc Ateer)

1 quantity of basic pastry
Filling
1 1/2 cups of apple or peach juice or water ( I used fresh squeezed orange juice and water)
2 red apples, cored and sliced ( they don't need to be peeled)
6 peaches ( I used nectarines) stoned and sliced
pinch of sea salt
1 TBSP of kudzu or arrowroot ( I used arrowroot)
2 TBSP slivered almonds ( I just sliced whole almonds)
1 TBSP Maple syrup ( I used apple juice concentrate)
Prepare pastry
In a saucepan bring 1 cup of the water or juice to the boil, add the apple slices and simmer for 5 mins. Add the peach and salt and simmer for 5 more mins. Remove from heat. Dissolve the arrowroot in remaing 1/2 cup of liquid. Add to the fruit mix and stir gently.
Preheat oven to 190C
Grease a tart tin, and roll 1/2 of pastry out, and line tin. Fill with fruit and then roll out the remaining half of the pastry. Either make a lattice (like me) or a top shell for the pie. Bake in the middle of the oven for 15 mins. Toss Almonds in syrup and spread on top of the pastry, bake for another 15 mins or until pastry it golden and crunchy.