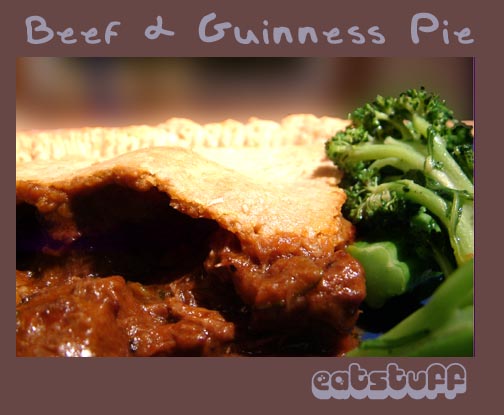 When the weather is cold, or the footy is on what do boys want to eat?
Meat Pies
, with tomato sauce silly.
Four'n Twenty
might be de rigor at the
AFL
, but not in my house! Do you have any idea how
bad
they are for you? (actually I don't like the taste either :P ) Since I am a welshman(NSW) and not a Mexican(
Victorian
) I am still just learning to appreciate the finer art of Footy watching (
AFL
) (Don't laugh Dave :P ). So anything that takes a few hours to make, is a pretty good activity for a lazy Sunday when the boys come over to watch Footy.
If you are going to make a meat pie then the meat has to be steak, tender chunks that melt in your mouth and not mince, I learnt that the hard way. The gravy is also really important, since I don't regularly make beef stock at home I turn to an alcoholic base for my pie gravy. That gives 2 choices, the ubiquitous red wine or the slightly more unusual Guinness. Go for
Guinness
, the chocolate coffee and slight bitter edge it lends to the pie will cause almost anyboy to immediately declare his undying love, just so you can make him this pie. If you are going to spend the time to slowly cook off the meat and make it with the love and the little bit of attention it requires, be sure to make the filling in bulk, at least enough for 2 family pies or more. That way you can bask in the love any time you want it or need that extra pair of shoes or a
new cookbook
.
Beef and Guinness Pie
1 kg of Beef steak (blade, topside, gravy etc), chopped into cubes (or as much as you want to last you the winter)
flour seasoned with salt and pepper
2 onions
optional veggies: Mushrooms, zucchini, carrots etc
750 ml bottle of Guinness (or your favourite stout, but then it isn't a Guinness pie ;) )
1 can of tinned tomatoes
salt and pepper
a couple of bay leaves
4 cloves of garlic
oil
Wholemeal Pastry
Flour the beef, shake off excess and fry it off in small batches in a casserole dish or saucepan til browned.
Then, fry off onions, garlic and any veggies you want to add. Add the beef back and deglaze the pan with some of the Guinness. Add the tinned tomatoes and enough of the Guinness to just cover the meat, stir well too ensure that nothing has stuck to the bottom. Bring back up to temp, when just boiling turn the heat back down to a gentle simmer and put the lid on. Check back occasionally to ensure it isn't drying out and to give it a stir. Add more Guinness or some water if required. After aprox 2 hours when the meat is tender turn off the heat and let the mixture start to cool.
Line a pie dish with pastry, add the beef mixture and top with more pastry. Bake in a preheated oven at 180C til the pastry is cooked and golden brown.
Eat, and enjoy with some beer.
Extra mix: Freeze in pie sized lots and defrost when some lovin' is required!