Fratelli Fresh
7 Danks st
Waterloo
1300 552 119.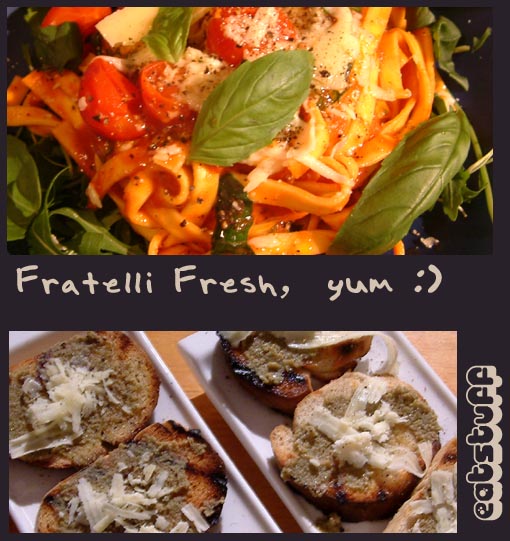 I know, where have I been? What have I been doing that is more important than posting to you my beloved readers? Well, actually sad to say not much. I have been spring cleaning and I now have a "library"(well it could be called other things, but I have deemed it to be the library) and I have been tired. Tired? So tired my photos are crap, when I have tried to play with my photos in photoshop I haven't known how to start. Poor excuses I know, but I am back to semi regular daily scheduled posting again...
So what has this to do with Fratelli Fresh? My mother and I made the very short drive to a street I didn't know was there to a shop I had only seen in my dreams, expensive ones at that.
So what is in the above photo? Some prepackaged food they sell? No, get over yourself, I made it myself. So what does it have to do with the store? Their produce Man!!!! I had long heard of tins of Italian cherry tomatoes, but where do you buy them from I wondered? I looked everywhere, here they sell the individually ($1.27?) and by the case($14) ! Oh my! I was hoping to find
Olive Jam
, but I came home with some Olive Pate, which seems similar. I found Italian saffron pasta ($3.25), huge bunches of luscious Basil ($2.49), Fresh Garlic ($2 ish) . There were many other products I *drooled* over. $18 ignots of coveture chocolate, Can anyone please come up with a good enough reason for me to by one... Buffalo mozzarella, Organic Free range chicks, Sparkling mineral water and luscious tomatoes and Dried Morels. There is heaps more here of course, but I hope you will go and discover the store for yourself. Upstairs is a cafe (we couldn't try because they had cooking lessons on) and over the road is the Dank St Depot, which has a restaurant (nice macchiato) and is full of galleries which is definitely worth a visit.
So what was the pasta like? Great. Simple. Easy.
Saffron Pasta cooked til al dente
Fresh garlic cloves diced and sauted in EVOO, 1 tin of baby cherry tomatoes a few anchovies, Salt and pepper. Cooked til pasta was ready, then tossed through with a handful of shopped basil leaves, served on a bed of my mum's organic wild rocket with shavings of Parmesan and a drizzle of EVOO
Toast
Grilled home made wholemeal Baguette (another story altogether) spread with olive pate and a sprinkle of shaved Parmesan.
Serve with a glass of Red.
Now this is "Store Cupboard" cooking at it's best. So when can you expect my next post?
Soon
.