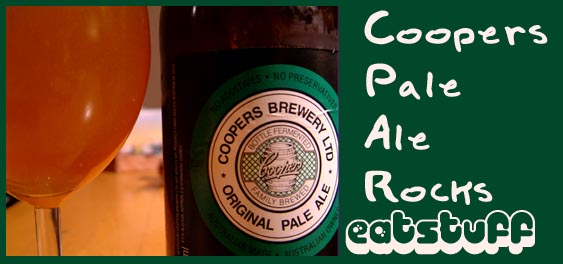 When I found out that my beloved homegrown, family owned Aussie Beer producing company
Coopers
might be going to be
bought out
by
Lion Nathan
( a huge beer making conglomerate) I was shocked and sadened. The last big family owned company might come to an end? NOOOOOOOO ( I yelled internally). So I suppose the question, why would I care so much? Comes to mind. Well, the Cooper's Premium Pale Ale (no longer available) was the first beer I ever like (so they are responsible for ALOT!), they introduced me to the joy of brewing my own beer and they taught me that good beer is so different to bad beer! The Pale Ale is definitely my fav, so when I found out (yep I am so slow) that they had decided to
reject the offer
I figured Casey had to go buy a long neck (750mls) and I would make a meal to celebrate.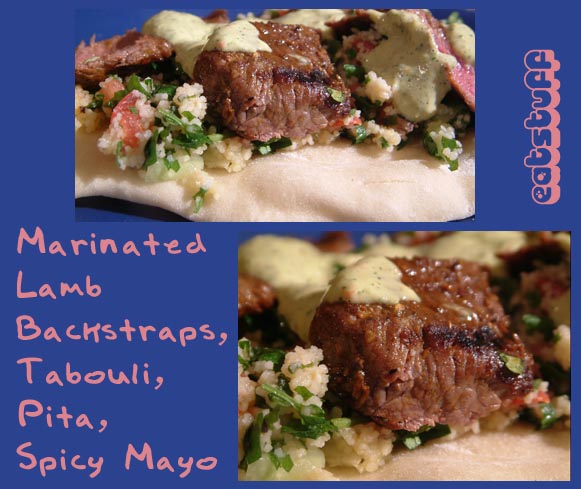 When I was trying to think of a food to have with beer, I thought what do you have after a long night on the piss? Hmm, Kebabs (well alot of people do). Well, that settled it, I would make a home version of kebabs (with plenty of leeway!). As far as a recipe for Pitas goes, you are just going to have to wait like everyone else for
FG's post
.
Meat
350 gms of Lamb Backstrap (that was the random amount the butcher gave me, it was plenty for 2)
Marinade
1 tsp of cumin and coriander seeds toasted in a hot dry pan
4 cloves of garlic
1 strip of lemon rind, sliced
Pepper, salt (and I put in sechuan peppercorns too)
Grind all of this in a mortar and pestle (of mini food processor) Til you have a thick paste, add alittle olive oil to slacken the mix alittle. Rub the outside of the backstraps in the mix and leave them to Marinate.
Spicy Mayo
3 Long Chillis (but hot) Char grilled and peeled.
2 cloves of garlic
1 bunch of fresh coriander leaves
1 egg (free range)
1 lemon (at least )
EVOO
s&p to taste
Put the chillis, garlic and coriander in a food processor and blend, when smooth the egg and blend again, add olive oil in small amounts until the mixture becomes thick, add lemon juice and S&P to taste
*note this is how I make all my mayonaises, but guestimation, they are THAT EASY)
Tabouli
Salad
cucumber, tomato, red onion, all diced
2 cloves of garlic
cous cous or burghul ( I had to use cous cous as I was out of burghul), hydrate according to packet instructions
1 Big handful each of sliced Mint and Parsley
Dressing
EVOO
S&P
1 lemon
Mix the salad together add dressing to taste.