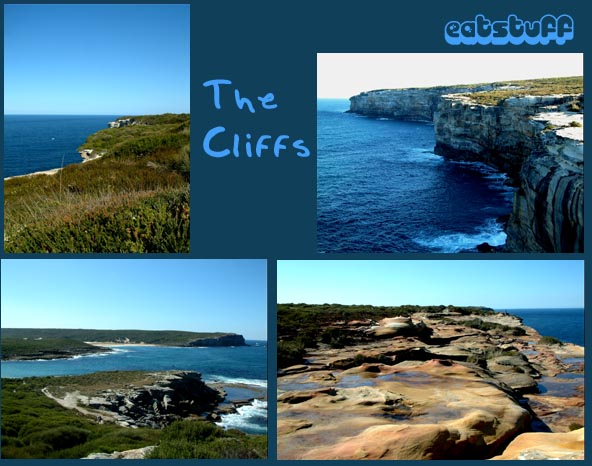 Since my country posts were so popular, I decided to put up some pictures of the picnic/bushwalk we went on, on the weekend.
The winter weather has been so beautiful in Sydney, 20 degrees and clear blue skies and no breeze! With weather like this how could you not go for a picnic in the bush? So we packed up the car and drive the 30mins to the Royal National Park. The RNP is located on the southern coastal side of Sydney, it is the oldest NP in Australia and the second oldest in the world after Yellowstone. This is very lucky, because otherwise I could see the mansions on the cliffs already ;) .
The walk we decided to take was Wattamola to Marley beach, this is a 6.5 km round trip. The walk starts off through coastal heathlands, then along the sandstone cliffs finishing up at the beach. It is a relatively easy walk and I recommend all Sydney siders make the trip!
When we got to Marley we had potato salad rolls (Atkins be dammed! LOL) on the beach and they tasted pretty good in the sun. I know everyone has a preferred potato salad recipe and ingredients they like to include but my method is easy and can be used with your favourite flavours.
The trick is to boil the potatoes whole, this prevents them from becoming mushy and absorbing too much water. Whilst they boil, thinly slice some red onion and put it into a large bowl and make your favourite vinaigrette. When the potatoes are boiled take them out of the water and while they are still hot peel and dice them. Put them into the bowl with the onion and pour the vinaigrette onto the hot potatoes. The potatoes will absorb the vinaigrette. The salad can be eaten like this, or when cold some sour cream and any herbs can be stirred through. I made a honey, mustard and orange juice vinaigrette and it worked really well. Casey's boss asked what sort of potatoes I had used, because surely they weren't normal potatoes *grin*.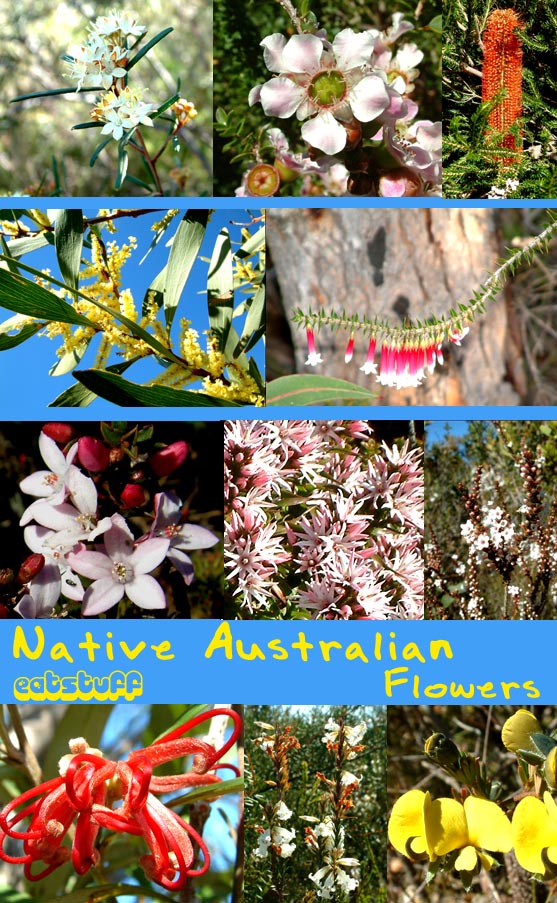 We were so lucky as all of these natives were in bloom. Whilst many of the Australian flowers are small, they are spectacular or I think so anyway. There was so many flowers in bloom that the air had a heady fragrance, it wasn't like perfume but honey, really rich and sweet with some salt from the sea air. The flower in the top right is a Banksia, whilst it looks small in the photo, the inflouresence was about 30 cms long!
If you would like more information on any of the flowers please leave me a comment and I will help you out.