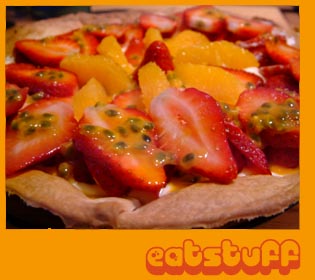 After my first comment on eatstuff, Clare thought it was time to get off my lazy bum and do my first full post aswell. So here I go with a ricotta and fruit tart Clare and I made to try and recreate a summer feeling in our unheated dining room.
This recipe was really quick and easy, so even computer nerds like me can make it. You kind of need really fresh fruit and ricotta cheese, but you can use packet sweet short crust, like we did here. You really *should* make your own pastry, instead of being lazy like us; it will definately taste better. The fresher the fruit the better, and get fresh Ricotta from the deli. If you use packet Ricotta from the supermarket I will come over to your house and set fire to your kitchen, and that's AFTER you suffered the pain of eating a crappy tart.
Ricotta base for on top of pastry shell
300g *fresh* Ricotta
1 tablespoon honey
*some* orange juice and half an orange worth of rind
Just whip this lot until it looks like whipped cream, adding orange juice while you whip to control the texture you want. Smooth into a pre-baked pastry tart shell and add the fresh fruit that you like. We added Strawberries, navel Orange (nice and sweet), and pasionfruit that we got off our neighbour's overgrown vine.
So go make one now, and if you are "Up Above" enjoy fruit in your summer, while we freeze our bums off "Down Under"