Cat food bloggers unite every weekend and share photos of your gorgeous kitties with us!
If you would like to be included, just leave me a comment with your permalink! and add a "weekend cat blogging" tag to your post!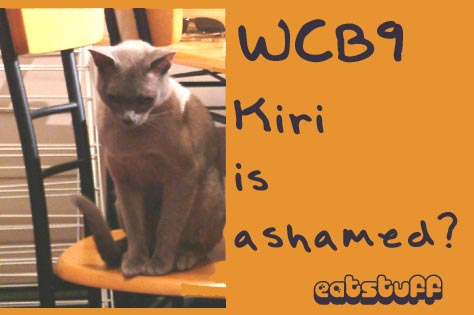 Literary Cat Quote: His Friendship is not easily own but is some thing worth having.
Michael Joesph - English Publisher
hmm Kiri sitting there like that... I wonder what is he worried about? Drinking out of the toilet? Walking on the bench? breaking my post plants? Nah he is probably just tired out after a hard core session of fetch!
Check out
Kits
, who rules Boo's house with an iron paw at
Masak Masak
Check out
Catgrl and the Cat
at
Tigers and Strawberries
Check out The
scardey cat
at
the daily vegetable
Check out
New Cat
in the potting shed at
farmgrl fare
Check out the smoochy
Ywette
at
Annes food
Check out another
smoochy cat
at
Belly Timber
check out
Bella and Tasha
at
A few of my favourite things