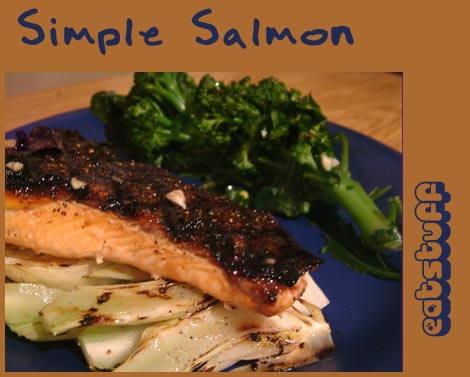 Well this is the first savoury dish cooked on my new stove, it is so simple yet perfect. The flavour of the salmon is heightened by an organic raspberry vinegar which was brought on the way back from my recent interlude. The salmon was served with garlicy grilled fennel and just steamed mothers organic broccoli. Perfect. We enjoyed this with a Moondah Brook Verdelo which was the perfect accompaniment.
Garlicy Fennel
Pre heat Griddle Pan tile HOT! Pre heat oven to 200 degrees C
Slice a fennel in half longways (half a fennel per person)
Cut the half into thin wedges
Place the wedges on the griddle pan, when the have marked and just started to juice turn the over. When cooked take them off the heat, keep grilling til all the fennel is cooked.
Finely chop some garlic.
In an oven proof tray lay down a few fennel wedges, sprinkle with garlic, fresh cracked pepper, salt and a drizzle of olive oil. Repeat til all the fennel is in a nice stack. Place in the oven (It will be hot and ready when the salmon is done)
Simple Salmon
Rub the outside of a salmon fillet (150 - 200 gms per person)
Crack fresh black pepper and a sprinkle of salt on the salmon skin.
Place on preheated griddle pan Skin side down. Cook for a couple of minutes thenpick up salmon and rotate by 90 degrees. Leave for a minute then place in the oven on the griddle pan. When the salmon is cooked to your liking (a couple of minutes at most, no more) take the pan out of the oven and place on skin side up on a bed of the garlicy fennel and drizzle with the raspberry vinaigrette emulsion. Serve with the broccoli.
raspberry vinaigrette
Mix raspberry Vinegar, olive oil and S&P to taste, whip to emulsify.
Steam Some broccoli and when tender mix with a tsp of butter a handful of freshly chopped Italian parsley S&P