Cat food bloggers unite every weekend and share photos of your gorgeous kitties with us!
If you would like to be included, just leave me a comment with your permalink! and add a "weekend cat blogging" tag to your post!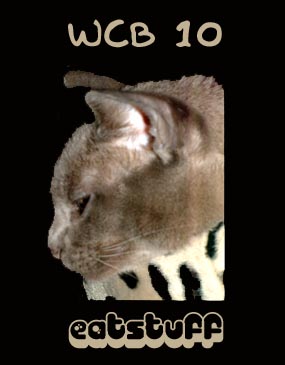 Literary Cat Quote: Cats love one so much - more that they will allow. But they have so much wisdom they keep it to themselves. Mary E. Wilkins Freeman
Oh Kiri, how I missed you whilst I was away. When I arrived home, he purred and purred, then smooched louder and more affectionately than ever. Then he fell asleep curled up around my feet.
I will add the tale of my holiday hopefully tonight or in the morning! I missed you guys heaps too, and I can't wait to see what wins the contest, although it looks like baklava is definately in the lead!
Check out
Tanuki and Yoshi
playing on the huge cat tower at
A cat in the kitchen
Check out
Meow Meow
, Boo's mother at
Masak Masak
Check out
The Hazards of plating
at
Bakingsheet
Check out
Audrey
at
Belly Timber
Check out
Katterier
at
Skor i Skralden
(Sorry if this is wrong I can't read it! But I am very glad your puddy cat is joining in :) )
Check out Cin's
Russian blue's
at
A few of my favourite things
Check out
New Cat
in the Cat Cabin at
Farmgrl fare
Check out
Edith
modelling her pink tongue at
Annes Food
Check out the pretty
Callie
at
Sweetnicks
*new*
Check out the adorable kitten
Indrid
at
Tigers & Strawberies
*new*
Check out the 2
cuties
at
Kitchen Mage
*new*