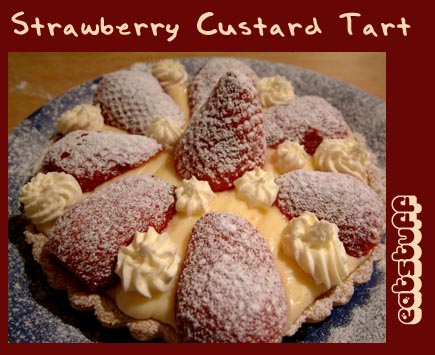 Yum, I was walking past this bakery on King St Newtown when I saw this tart and I just had to get it......
JUST KIDDING :P
Actually, I had made way to much shortcrust pastry for my Smoked Salmon Quiche and on the weekend I just happened to purchase a set of itty bitty tart pans... and the rest is history, literally hehehe in our tummy's!
Casey really likes Custard and I had some really big Strawberries, so I figured that a strawberry Custard tart would come very naturally.... I do have to admit that I used Custard powder (OMG! what a shocker!) Well, I had used the last of my eggs in the quiche, so sue me :P. Using Custard powder did make this a very easy tart to make though. To replicate the creme patisserie I doubled the amount of custard powder to 4 TBSP to 500 mls of Skim milk, which I cooked til thick (make sure you let it cook out the flour taste) I added a little extra Madagascar vanilla extract and let it cool. I baked off the wholemeal shortcrust in the itty bitty tart pans and when golden I let them cool. I whipped some fresh cream (please no thickened creme!) and mixed it with the creme patisserie and piped it into the tart shells. That's right I said piped. I think that my subconscious may have had alterior motives afoot when it came up with idea... I might have to have words with myself! I had bought some disposable multilix piping bags at the supermarket a few weeks ago and thought I should give them a go, only for YOUR sakes you do understand ? ;) . They worked really well, no mess and I didn't have to wash them. I do have issues with them being disposable, but if I use the rest of the packet within the year I will buy a decent piping bag, how does that sound? I then laid the halved strawberries and laid a dusting of icing sugar over the top.
So how where they? Not to bad if I must say so myself. Definitely much better than 90% of the fruit tarts in local bakeries.... and heaps of fun to make!