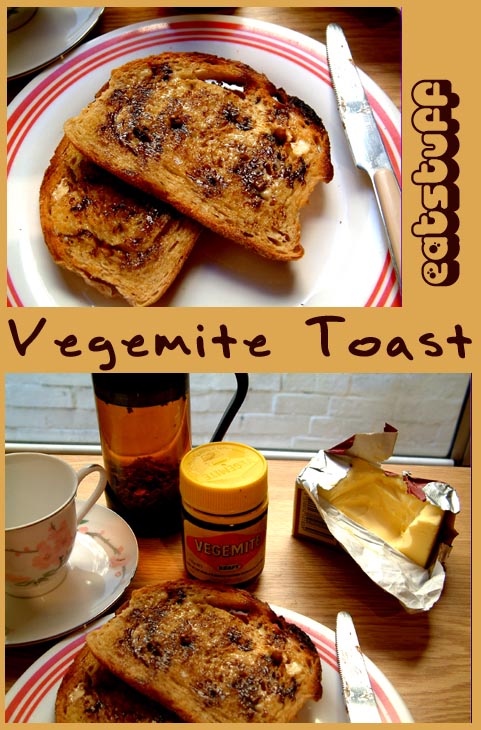 We're happy little Vegemites
As bright as bright can be.
We all enjoy our Vegemite
For breakfast, lunch, and tea.
Our mother says we're growing
stronger every single week.
Because we love our Vegemite.
We all adore our Vegemite.
It puts a rose in every cheek!
I know that the average non Australian opinion of
vegemite
is not very high, but I am here to change all that, especially
Kirk's
(this is for you boy, because he asked for it ; ). I think there are two main reasons for this: 1) because vegemite is made from Yeast extract, 2) When Australians make vegemite for American's they COVER the bread with vegemite, cause that's FUNNY!!! ( Haven't you ever heard of the "little aussie larakin" HA!)
So why eat this stuff? It tastes good, not like chocolate and there is no way that you would spoon it from the jar and secondly because it is good for you! It is high in
Vit B
,
folate
, and only 38 kj's per tsp, don't you know ;)
How to make Vegemite toast
1 jar of vegemite
butter
2 slices of bread ( I used Sourdough bread from Rise in Newtown
1 cup of
tea
Put kettle on for tea, put toast in toaster. When toast is toasted, generously butter it up, then put alittle on your knife and carefully spread it on the bread. You don't want to put too much on, this is very important! When the tea is made, have the best breakfast, lunch or tea!
*Note* The better the bread and the butter the better the whole experience will be!