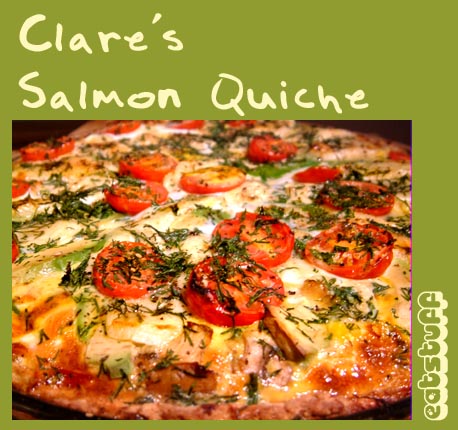 That quiche looks ok doesn't it? Well it definitely tasted even better, It looks really big because I made it in my huge 30 cm (for us anyway ;) ) Pyrex tart pan, because you if you go to the effort make it big enough for 2 meals or at least lunch the next day.
Did I tell you I cooked it in my new oven? Notice that there are no crispy burnt bits. This probably sounds like I am doting a little bit, I know, I know, but I am just so happy it worked so well.
Whenever I make a quiche I just use what ever I fancy at the time or have at hand, so I know it isn't that traditional but they always work out really well. Today I did cheat though because I decided I really wanted some smoked salmon so I went and bought some ;). The other thing I find about them is that they can be too heavy or rich. This can be a good thing, but not for your average nights meal where you don't want to be too concerned about your arteries hardening. So I use skim milk with the eggs, try to use veggies that have been grilled or roasted without too much extra grease and only a little good cheese rather than a ton of 'eh'.
The basic plan is:
Wholemeal Shortcrust pastry
Then
100 gms of smoked salmon
1/2 bunch of dill, chopped
1/2 a punnet of cherry tomatoes sliced in half
1 Kumera(Sweet potato) peeled and thinly sliced and grilled
1 handful of button mushrooms thinly sliced and sated
1 red capsicum, skin blackened and sliced into strips
1 avocado peeled and sliced
1 small Brie sliced
salt and pepper
6 eggs beaten with some skim milk and S&P
Line a 30 cm tart tin with the pastry and prebake at 180 degrees C for 15 mins.
Layer the ingredients with the tomatoes and Brie on the top. Bake in a 200 Degree C oven til set and golden around 30 - 40 mins
*Note* Adjust to suit the size of your pan.
Serve with a simple salad!