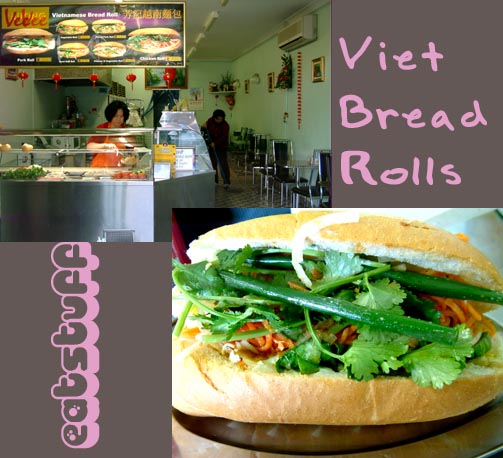 You know how some places see really popular and when you go in and buy the food you think WHY? OH WHY is there a huge line of people and a whole heap of newspaper reviews on the wall when there is a much better, cheaper, friendlier place just down the road? Well that is what happens in Mascot.
Mascot might feel like the middle of nowhere, but there are a few gems located on Botany Road. The First Gem is Vee Vee bakery at 1177 Botany Rd. It might look like there is no one there, well actually there is but this is at 4 pm and not lunch hour. The 2 ladies are nice and polite and modest they were so humble when I asked them if I could take a photograph. Vee Vee sells a few different Bahn Mi, Chicken, Roast Pork, Pork Roll, vegetable, meatball and the most expensive are $3. $3 is .50 c cheaper than the bakery up the road :P apart from that the rolls here are much nicer, crispy and they use there own soy blend and not just Maggi seasoning, which adds to the overall roll experience and they have more counters, which means that they get through there customers much quicker too (and they have tables to sit at). These rolls make a tasty quick lunch and definatly beat the pants off the "larger" competition", if you know who I mean ;).
If you make the journey to try one of these babies make sure after you finish lunch you keep walking down Botany rd to
Christophers
cake shop and alittle further on is the Indian grocer where I found my
Chapati press
, you just never know you could get lucky too (they have indian sweets as well).
This post is dedicated to
Kirk
and all the other food bloggers who search for Bahn Mi Perfection!