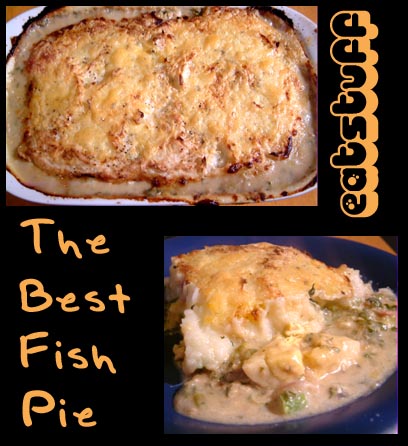 Why have I put pictures of this big gloopy stuff on your screen? Well, it's not gloopy is was crispy and yummy. It was so good that Casey declared it one of the best dishes I have ever made. What, where did that come from?
When we bought the red fish I had intended on making fish soup.. But without my Prawn stock (I know get over it already!)I was at a loss... What to make? Well I have always wanted to make a fish pie so.... I thought here it goes. Casey, he didn't agree... Fish pie "I don't know" he said. Well :P to you I said and made it anyway. LOL! He definitely ate his words when he ate it I tell you!
This was incredibly easy to make, healthy, yummy and you could easily make a HUGE one for a big family or a party!
The Best Fish Pie Recipe
ingredients
5 large potatoes, made into mashed potatoes (seasoned and with butter and milk)
3 hard boiled eggs, quartered
1 bunch of Chinese broccoli, sliced and just steamed (or spinach steamed)
500gms of Firm white fish (I used red fish, or you could used smoked fish) sliced into strips. Make sure the fish is either boneless or you pin bone it.
1 large onion diced
5 cloves of garlic, diced
Some veggies diced( your choice of celery, carrot, fennel) ( would be a good way to hide veggies from your kids)
1 big tbsp of butter
2 dsp of flour
1 big bunch of herbs diced, I used dill and parsley.
1 and 1/2 cups of milk (aprox) ( I used skim milk but water milk you like)
2 big handfuls of cheddar cheese (not orange stuff!!!!) + a little extra
juice of 1/2 a lemon or lime
Salt and pepper
Saute onion, garlic, and diced veggies in butter, when soft add flour and cook for a few minutes. Slowly add milk stirring constantly (the amount you need will depend on the size of your dish. When you have added all the milk and the mixture is thick, cook for 2 minutes, then remove from heat add cheese, lemon juice herbs and season to taste.
Place steamed Chinese broccoli in the bottom of your lasagna dish, top with quartered eggs and fish pieces. Pour sauce on top, evenly. Cover the top in Mashed Potato and place in a preheated oven to180C for aprox 30 minutes, till the sauce is bubbling around the sides.
Optional Grate a little extra cheese over the top and bake till the cheese bubbles and is golden.
Serve with some salad maybe some crispy bread. We enjoyed a James Boag Premium with this VERY much!
You could make this the day before and store in the fridge and bake then. Casey said his leftovers for lunch were better than the night before.
Posted in
Fish
,
Pie
,
Recipe
,
eatstuff
,
Blogging