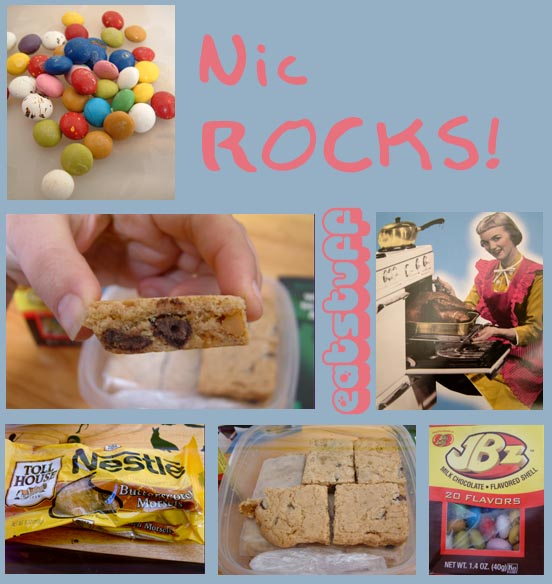 Well I don't know about you, but I think that the above photo shows why
Nic
Rocks. So why was I so incredibly lucky? Well I am still not sure :) . But everyone who is participating in Nic's blogging by mail event is getting a similar package. But mine is even more special, I had seen what
Mcauliflower
and
AG
had received, but when I opened my packet there was a huge bag of Butterscotch Morsels! As soon as I saw them I said WOW she remembered! Well,
Nic
had made some awesome looking
Butterscotch and chocolate chunk blondies
! and I had lamented that Butterscotch chips are not avalible in Australia (why Nestle why???).
Nic
described this in her lovely letter so I know I am not making this up. Well I not only received a package of butterscotch but also the Blondies! Am I a lucky girl or what?. In the photo can you see the empty space? That is because I HAD to try one before I even thought of taking a photo ;).
I also received a packet of JB's which are like what smarties should be! You know who everyone thinks that the different colours taste different? Well these guys really do! and there are 20 flavours and I received 40 JB's in my box. I only missed out on 3 flavours, the cappucino, strawberry cheesecake and the orange. I think my favourite was a tie between the rasberry and the honey graham craker. What's your favourite???
Well Since I only have 1 packet of Butterscotch Morsels I want to make sure I put them to the best use possible. I have tried
Nics
yummy
blondies
, so I want to know what is your favourite way to use them?
Please send me an email (eatstuff at gmail dot com) or leave a comment with your favourite recipe and I will make and blog about my pick (maybe a poll???) who knows you might get a prize if I get around to it.
Anyway, I wanted to say THANKS SO MUCH!
NIC
YOU ROCK!
Blogging by Mail
,
Butterscotch morsels
,
recipe contest
,
eatstuff