The Final Tathra roundup is here!
Marg and I managed to squeeze in another cooking fun extravaganza, we made Pizza! Now I know this does not sound like a big thing, but we sure had fun. There was abit of history too, M&D have a gorgeous huge Smeg Oven *drool* and the thermostat works *oh my!*. I have been wanting to get Marg a Pizza stone for ages as she had been lamenting her inability to get a nice crispy bottom on her Pizza. So whilst we were in town(
Bega
) I made Dave drop in at the local tile supply store. I had already decided that I would be shooed unmercifully out of the store for asking for tiles that could be used as Pizza stones. Boy was I wrong, the guy was a darl, he searched out the back and came out with 2 huge tiles which he declared were free, and he hoped they would work! Wow can you believe it? This is the country attitude at work. So I walk out to the car and I am still stunned... But I ponder what just happened here. I think I figured it out whilst talking to Marg. He is the only tile supplier in Bega so he depends on his good name, it doesnt take much for people to march with there feet and for him to have no customers left! So, instead of being grumpy or unreasonable, he is friendly, helpful and even comes up with the goods, what does this get him? I blab to all the locals I know about how nice he was and even write about it here... So all you city shops take note this is how you get customers!!!!
Well anyway the pizza... you dont need to know what was on it... (chicken, avocado, mushroom ..etc ) but you do need to know this, in 12 minutes we had 2 awesome pizzas with a crispy bottom that put most woodfired pizzas to shame! So go to your local tile shop you might just be surprised..
Oh and Sam I think these would have been great for your utensibility me me to to :)
But Wait I am not finished yet!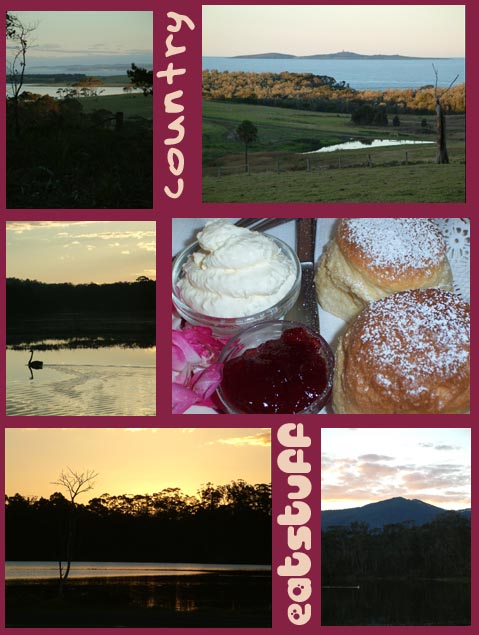 We had a day trip up to Tilba Tilba,
Central Tilba
and
Narooma
whilst we were down the coast. I had heard all about the yummy Devonshire teas at Tilba Tilba mmmm, so off we set, we arrive order, the food comes, looks great, take one photo, and that's it no batteries .OMG what will I do! Luckily the one photo was of the Devonshire tea that I shared with Casey, the scones were light and melted in you mouth mmm, but the cream was fresh but they had used a soda bulb to froth it. Come on whisk people it isnt hard! The tea was nice, with leaves (no bags I hate that!!!) and was perfect for 2 big cups of tea from nice tea cups.
We moved on to central tilba, were we walked around. It was nice but alittle to touristy. This is also where they make tilba cheese. The cheese was ok, and if you like it, it was good value for $6.50 for a large wax covered block. The best store there was the jewelry store, where Marg and I cooed and ahhed for a very long time *hint hint* Casey ;)
In Narooma we bought some batteries so that we could take photos of the scenery... Remember that it is actually a black swan in the photo, and the Island is Montague Island which has great diving and a seal colony.
On our last night we went to the
Merimbula
Noodle House and I made an Orange cake with lemon and orange curd filling, dark chocolate ganache top with candied orange rind. AND BOTH SETS OF PHOTOS DIDNT WORK , The camera was on manual light settings and I didnt realise so the photos look like nothing... I mean completely black :( I will do another review of the Merimbula noodle house when we go back at a later date...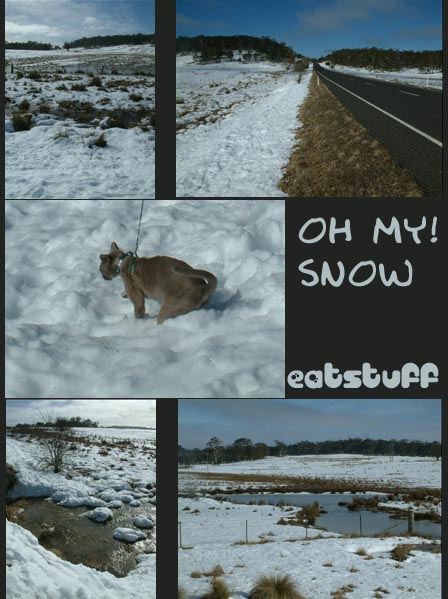 I know this must look like a measly amount of snow to all your Northern Hemisphere people but it was pretty exciting to us! There was a HUGE storm which delayed us by a day, what a pity. This meant that at the top of Brown Mountain there was a large snowfall!! That stretched for about 10 kms... it was so pretty. When I heard about it all I could think about was taking a photo of Kiri in the snow! Aren't I mean? It is all your fault
Michele
LOL you got me
started
he he he
He didnt mind that much actually.. and I warmed him up straight away.
Well that's all folks, we are back in Sydney. I hope you enjoyed your small glimpse of the Aussie country and bush.... I am sure there will be many more posts on it to come yet!
Posted in
Tathra
,
Narooma
,
Merimbula
,
holiday
,
eatstuff