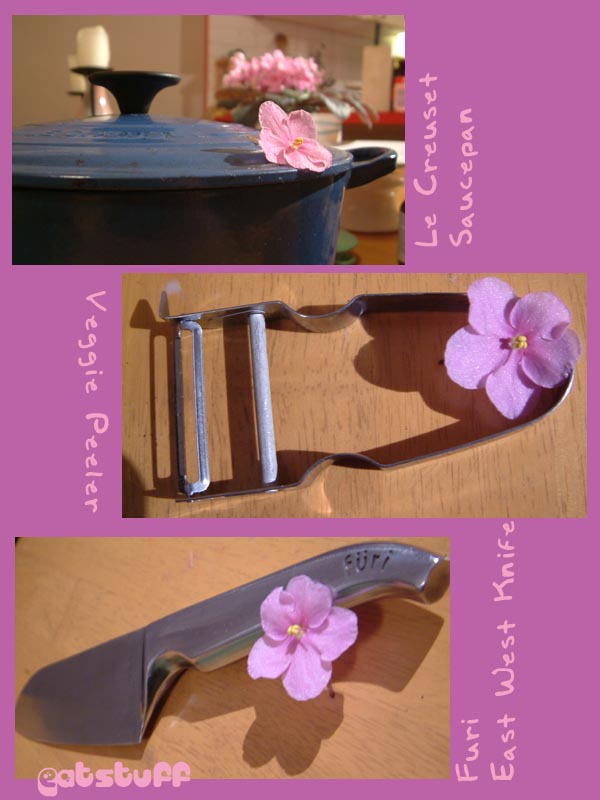 It is here!
Utensiblity Week
The gorgeous Sam from
Becks n Posh
has decided that the collective food bloggers could come up with a really important resouce, the best the
Utensibility Utensil list
. I think that this is really important, there is nothing worse than spending your hard earned dosh on a useless utensil. There are lots of great utensils out there, many of you probably don't realise this but my naughty but very cute kitty Kiri inspired this blog by
breaking
my beautiful
le creuset griddle pan.
Which I have still not been able to afford to replace, anyone feeling really generous? I thought not *sigh*
My 2 most useful utensils are my
Le creuset 24 cm Oven
and my
Furi East West Knife
. I dont think I could live without either of them. But probably if I had to choose only one it would be my Furi E/W knife as it is MUCH more portable (lol) and I use it EVERYTIME I cook. It is light but not too light, so sharp and thin so that I can make the finest dice. The only thing better would be the whole set!
Sam also asked us to think of a bargain basement item. What is the kitchen utensil that when it is good you hardly notice but when it sucks can be very painful and cost you heaps in preperation time? The good old Vegtable Peeler! I love my
Y Vegtable Peeler
which not only peels vegtables so easily, but also chocolate. It also lets me make nice carrot peelings for salads and sandwhichs. This is not quite the right one... but it is close, I think I only paid $3 for mine and I wouldnt swap it for the world.. maybe but only if I could buy another one too :)
I hope you find my Utensible Utensils useful. I cant wait to see the roundup at becksnposh.