Taste Tea


Gee the last month has flown by, and it is time for that food blogging marvel IMBB which was created by the lovely Alberto of
Il Forno
.
This month's food extravaganza
is being hosted by Clement of
A La Cuisine!
He has chosen tea, and has asked us to write about our daily tea rituals and make something with it, which I will get to in a little bit .
Well, I think that my tea ritual started as a child, my parents would not let me drink coffee (it was only instant then anyway :P ) but I was allowed to have tea. I started off with milk and 2 sugars, which I think means that tea was really only a thinly veiled vehicle for sugar. I am very happy to say that my tea taste buds have matured and it is now drunk sans milk or sugar.
I love making my tea with the best quality tea leaves, pouring the filtered water into the kettle, warming the pot and the cups, measuring the tea, pouring the water and then watching and waiting for the tea to reach the right colour... Then the best bit of course, drinking it! There are many foods which are better with tea: Vegemite toast, cucumber sandwiches, tea cake, Chinese food, Indonesian food, Japanese food..... and I love them all.
So what is the best way to eat tea? In my opinion there is only one best way.... as powdered Japanese green tea, Matcha. Oh you already knew I was going to use that didn't you??? HA!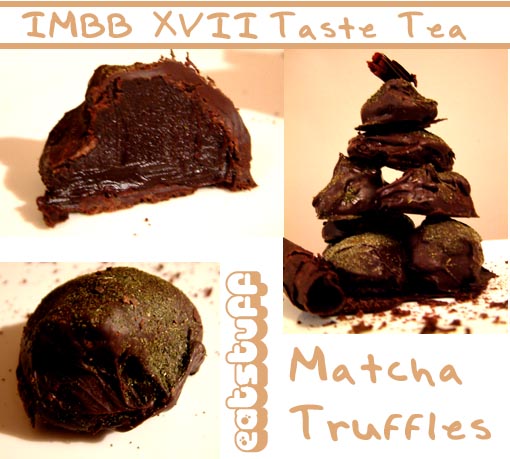 Well here it is, dark, luscious, creamy Matcha truffles. OMG they are so easy and so good! A this crisp veil of dark chocolate sprinkled with powdered sencha hides a meltingly creamy matcha scented dark chocolate ganache *drool* . I think that this has to show tea off to it's best and to show how much we revere it!
To make the truffles I used (and altered)
Robert Linxes
(founder of La Maison du Chocolat) truffle recipe.
Ingredients
6 ounces Valrhona chocolate (56% cacao)
1/3 cup heavy cream (make sure there is no gelatin in the cream!)
3 TBSP of Matcha (Powdered Japanese Green Tea)
Sencha which has been placed in a blender til powdered then sifted as you only want the powder

Finely chop 4 ounces of the chocolate and put in a bowl.
Bring heavy cream to a boil in a small heavy saucepan. Make sure your pan is small, so you'll lose the least amount of cream to evaporation, and heavy, which will keep the cream from scorching. Add the Matcha and stir til dissovled, the cream will be green.

Pour the cream over the chocolate, mashing any big pieces with a wooden spoon.
Then stir with a whisk in concentric circles (don't beat or you'll incorporate air), starting in the center and working your way to the edge, until the ganache is smooth.
Let stand at room temperature until thick enough to hold a shape(If it is hot this wont work, wither place the bowl in the fridge to set or turn the AC WAY UP or just wait til the weather cools!), Shape balls of ganache with 2 tsps and place onto a parchment lined tray. Put tray into the freezer for 15 minutes until they set hard.

Meanwhile, melt 2 more ounces of the same Valrhona and smear some on a gloved hand. Gently rub each chilled truffle to coat lightly with chocolate. The secret to a delicate coating of chocolate is to roll each truffle in a smear of melted chocolate in your hand.

Sprinkle truffles with the powdered Sencha. Then just try and resist eating them!
Makes about 15 truffles