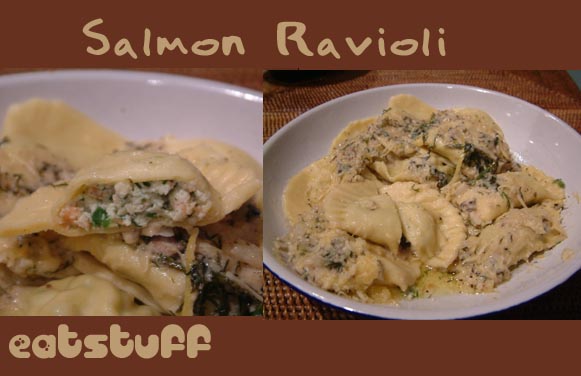 I promised
Amy
that I would write a poem for her
poetry contest
. Well, I thought that I would not pain you with one of my poems but would get casey to write one for me. Well... I dont know whether you would win or lose yet. ha!
If you love or hate my poem please go and
vote,
voting lasts for the next 5 days!
Salmon Ravioli
There is nothing more tasty
Than fresh made pasta pastry
And there is nothing more yummy
Than seafood in my tummy
So Put Ricotta, herbs and Salmon
In your pasta, and start boilin'
To your delight you will find
That nothing rhymes with ravioli
One of the best things about staying in Tathra is that I get to cook with Marg. It doesnt happen that often but when it does it works out very well. I think I might drive her alittle crazy though because she is a precise cook whereas I am very imprecise LOL. Oh Well, especially when brillance like this happens. I make the filling and the sauce, and help roll the pasta sheets, whilst marg wraps the ravioli and cooks it. Perfect!
This ravioli is easy to make although a little time consuming. But it is definately worth it!
Make some fresh pasta sheets and roll them out in your pasta machine.
For the Filling
Mix 200gms of diced smoked salmon, 300gms of fresh ricotta, half a bunch of finely chopped dill and parsley, 3 cloves of finely chopped garlic, 1 finely choped chilli, pepper, 1 tbsp of finely choppedcapers, 4 finely chopped anchovies and a couple strips of finely chopped lemon peel. Mix together and let it masercate for 1/2 and hour whilst the pasta is made.
Fill the pasta (How ever you want)
Cook in lots of boiling salted water. Serve with this sauce
4 cloves of garlic, thinly sliced
1 big spoon of capers
1 big slice of lemon rind, thinly julienned
3 anchovies
1 lemon, Juiced
1/2 bunch of dill
Extra Virgin Olive oil
Freshly Cracked Pepper
Grated Italian hard Cheese (I used parmesan)
Put a big pot of salted water to boil. When Boiling add pasta and cook til al dente.
In a small nonstick fry pan put a generous 1 cm of olive oil, turn on the heat to low. Add the garlic and let the oil infuse with the garlic. After a few minutes add the lemon rind, capers and anchovies and dill, let this infuse as the oil starts to increase in heat.Add the lemon juice (be careful it might splatter) and pepper. Drain the cooked pasta, put back into the pot, add the sauce and some grated italian hard chesse. Toss well and plate up.