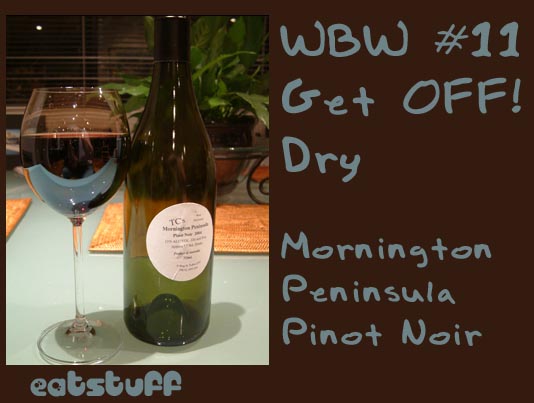 TC's Wine Merchants
15 Bega st Tathra 2550
Ph 02 6494 1646
I am abit scared... I hope I didn't just make a huge flaw and choose a wine that doesn't get off! Dry? This
Months WBW
is being run by
basic juice
and the topic is alittle elusive... to me anyway. So I am really sorry if I got it wrong!
Since we are on holidays, I figured that a holiday wine post should also be in order, especially if it involves the fabulous local liquor shop. TC's is the Tathra bottle shop, the owners have decided to "label" their own wine. They are essentialy relabeling clean skins and they have a very large selection of white and red. The advantage of this is that you know the wines are good as the come with their seal of approval. The only flaw is they sell out really quickly! But they do continue to get the same wines repeatedly.
The Outlaws were purchasing some shiraz and the owner asked us if we would like to taste some of their other wines, another Shiraz and 2 Pinot Noirs. The Mornington Peninsula was fantastic and very good value for $12 especially with the 10% discount for purchasing a doz (can be mixed).
The Pinot Noir had a definate scent of strawberries and alittle sweetness and alittle acidity (off dry???). We drank the wine with some fantasticly fresh prawns and I have to say this was a match made in heaven. The sweet, salty prawns somehow accentuated the strawberries in the wine and made it taste almost creamy and smooth? Oh I don't know.... but I do know this it was good.
So if you happen to be down here on holidays I definately recommend stocking up on a case of the house clean skins... the prices range from $5 to $15 a bottle.
p.s. can you see the suprise in the photo?