Cat food bloggers unite every weekend and share photos of your gorgeous kitties with us!
If you would like to be included, just leave me a comment with your permalink!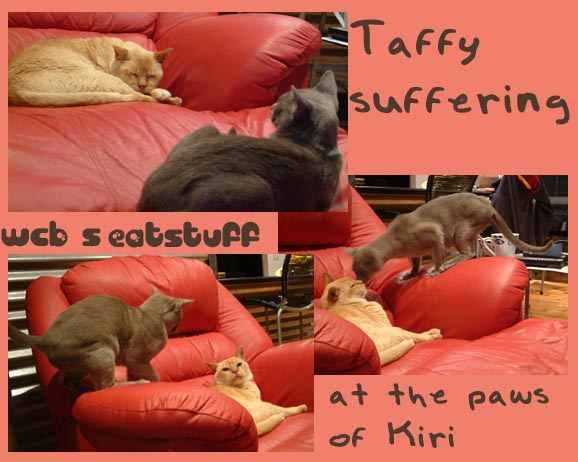 I told you last weekend that the
poor sleeping
17 year old Taffy would not get much of a rest!
Poor Kiri is absolutely in awe of Taffy and just wants to play, but playing to him means trying to jump on taffy and roll around and run after him grabbing him on the tail. Taffy responds by grumbling and growling like the the old man he is. Well I know who wont be sad to see us go. But I think he really will miss Kiri, how couldnt you? Most of the family have come to realise that Kiri is our little baby... and he will be the only one for awhile yet! But Casey's grandmother said " he is very nice dear, but a real great grandson would be much better" What can you say to that?
Can you believe this is the fifth weekend of Kitty pictures? (longer if you are Indira of course!) I can't that's for sure. I am so glad I am doing this though as I am going to have the best memories and photographs of my baby growing up, even if he is being naughty.
Check out
Kittaya, and his pals Lucky and Ace
at
Mahanandi
Check out
4-1/2 pound Molly Doodlebu
g at
Farmgirl Fare
Check out
Springheel Jack and Gummitch
at
Tigers and Strawberries
Posted in
Weekend Cat Blogging
,
Blogging
,
Kiri
,
Burmese
,
eatstuff