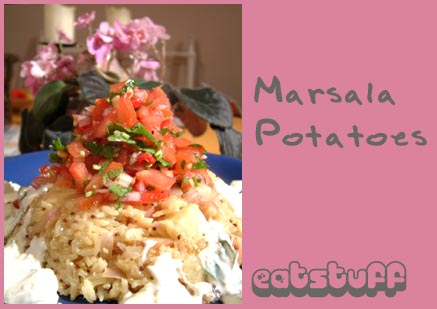 When I was filling in my most recent
MEME
which was courtesy of
Amy
, I realised how much I was missing the Indian feasts that my sister and I would make together. During that time, I learnt so much about spicing and tempering dishes, my chopping skills improved immensely and my ability to "time" a meal became innate. This was of course not the only reason I miss it, I also miss cooking with my little sister, discussing what we would make, how would do much and the equal shared pride in the end product.
As I mentioned, I don't have the original book which still jars me, but looking through my immense cookbook collection I found my little purple cooking notebook where I had scribbled a few recipes whilst on the phone to my father. They were my favourite Lamb and Eggplant curry and this Marsala Potatoes. Luckily I managed to have all the ingredients required to throw this together (except I had to substitute a few spices, although I am going on a major spice hunt on the weekend!)
This potato dish is great as a meal on its own, with a curry or with a piece of fish, chicken, tofu or steak. I really hope that you try it! Don't be scared off at the number of spices, or the number of chilies! Although adjust the chilly level to your own tastes.
I served this as a dish in it's self to remind me of little sis with just 2 very simple raitas. I hope you enjoy this! We certainly did :) (Casey gave it a 5 star next day lunch rating too!)
I do recommend using a nice heavy saucepan to make this though, my le creuset oven was perfect ;)
Marsala Potatoes
225g Potatoes, 1 inch dice
225g rice
2 tbsp oil
25g Onion, diced
2-3 cloves
1/2 inch cinnamon ( I didnt have any so I used some cinnamon powder, but a stick is better and don't break it up!)
2 cardamom, cracked to release the flavour
2-3 Bay leaves
1/2 tsp of cumin seeds (powder will work though)
1 tsp of ginger and garlic paste (grate ginger and garlic then pound a little in a mortar in pestle, if you don't own a M&P just grate)
1/4 tsp of tumeric powder
1/2 tsp of chilli powder
3/4 tsp of salt
1 TBSP of low fat natural yoghurt
1 green chilli ( or a long red chilli, if this is the only dish you might like to increase this)
425 mls of water
Heat oil in a heavy saucepan, add onion, cinnamon, cardamom, cloves, and cumin, fry till it smells nice. Add ginger and garlic paste , tumeric, chilli and salt. Stir and cook for a few minutes till onion is soft.
Add yoghurt and water. Bring to the boil. Add rice green chilli and potatoes. Cover and simmer on lowest heat for 25 minutes. Stand 3 - 4 minutes before serving.
Tomato Raita
Dice tomato, red onion, garlic, chilli, add coriander, lime juice, salt and pepper. Leave to marinate.
Yoghurt Raita
Toast cumin seeds in a saucepan with no oil til they start to pop. Add to yoghurt with garlic, salt lemon juice and mint. (cucumber is really good too)
With the raitas adjust amounts to the number of people you are feeding.
I hope you enjoy this :)
Posted in
Indian
,
Recipe
,
Food and Drink
,
eatstuff