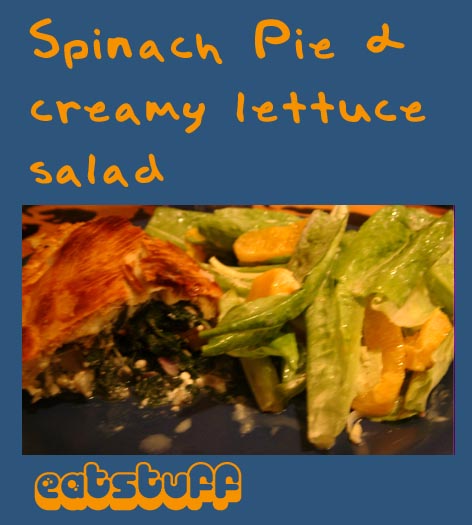 I love Spinach Pie. My mother has made it ever since I was a child and it was definitely one of our favourites! Well I suppose it is really silverbeet pie, as that is what my mum always grows in her garden. I found beautiful bunches of silverbeet for only 99c, so I had to make a pie. I am abit annoyed though, I ALWAYS make my own pastry, but this time I didn't. Mum always used a wholemeal shortcrust pastry on her pie and the nuttiness of the pastry pairs perfectly in my book. Well I was tired so I bought some shortcrust. YUCK, I was not happy at all. If you go to the effort to make this PLEASE PLEASE make your own pastry, preferably wholemeal. It doesn't take very long and the results are so much better!!!
For the creamy lettuce salad, I was looking at
Zarah's
blog and I saw her recipe for
Mormor salat
and I was drawn to it straight away. I used beautiful tender baby cos from my mum's garden, and fresh in season navel oranges which were juicy and sweet. I used sour cream , orange juice and a little honey in my dressing, but go to
food and thoughts
for the real recipe. This simple salad was fabulous and I really recommend you make it, but only with the best ingredients.
Spinach pie
2 bunches of silverbeet, leaves and stems seperated, well washed and sliced.
1 egg
1 packet of cottage cheese
parmesan and cheddar cheese
salt and pepper
1 onion and 3 cloves of garlic, diced and softened.
nutmeg
salt and pepper to taste.
Stem stems of silver beet in a pan til tender then put into a colander to drain. Steam Silverbeet leaves til tender and put into the colander to drain. Make sure that the silverbeet is as dry as possible, you will need to squeeze as much water from the leaves and stems as you can, or the pie will be too wet. (keep the juice and use in a soup ;) )
Mix cottage cheese, eggs, freshly gated nutmeg, and salt and pepper in a large bowl. Add onion and garlic. Add silverbeet mix and use as a filling in your favourite pie. Put the cheddar and parmesan on top of the filling in the in the pie.
I hope you make this family favourite!