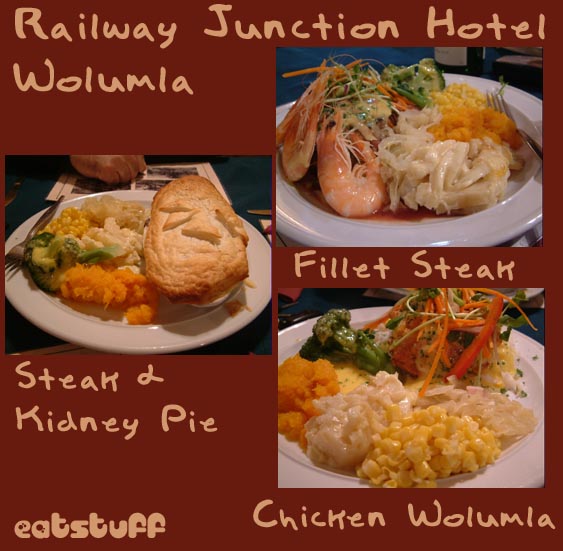 Railway Junction Hotel
Proprietors: Paddy & Debbie
Phone: (02) 6494 9213
FAMILY BISTRO RESTAURANT - PUB TAB - POOL - COLD BEER
Scott Street Wolumla just off the Highway, half way between Bega and Merimbula
Sapphire Coast
South Coast
New South Wales NSW


Well the outlaws decided to take us to one of their favoured dinner locations, the Railway Junction Hotel in Wolumla. Wolumla is a sleepy but very cute town about 20 kms from Bega. Case and I had been there once before and had enjoyed a beer, we were both wondering what the food was like. M rang up and made a booking (she made sure to tell me to tell you to make a booking if you go) and yes we had a booking for 6:30 pm. You have to remember this is the country and they eat much earlier out here. We made the very pleasant drive out to the hotel, and walked in. I was wondering where is the railway? Isn't this the Railway hotel? Well it seems that Prime Minister Parkes (along time ago) had promised the town a railway stop after visiting the cute little town, but had never come good on the promise.
We had a look at the menu, Ooh steak and Kidney Pie! M& D cry (I secretly shudder), But I spy Chicken Wolumla and Case the Fillet Steak. We notice that there are only 2 people in the kitchen, but that the meals every one are receiving look good. We decide that a bottle of wine would be rather nice and choose a good red shiraz (old vintage and cheap but I can't remeber which one). We sit and chat and drink, we get hungrier and hungrier and realise that our bottle of red is gone, oops. We decide that a sparkling shiraz would be nice with the meal, it is again nicely priced. Then out comes the Steak and Kidney Pie, Wow. It looks really good, especially for the reasonable price of $14. This is where I make the embarrasing omission that I have never ever, ever had a S&K pie before. M shrieks... you just have to try this. So with tepadation I take a mouthful, slowly put it into my mouth and bite down. Then I start to chew and taste it, I think I may have cooed. Wow, it is good! Yum! Then out comes Case's Fillet steak with Prawns($20) which he ordered Medium Rare. It came out cooked to order and very tender, but he would hjave like the prawns hot to go with the meal. I was feeling left out at this time even though only a minute had passed as all the meals looked so good. Then the room became quiet, there may have an "ahhh" in the background and I was served my chiocken Wolumla($16). Gee! it is big and smells so good. I taste the veggies, fresh broccoli, potato gratin, mashed pumpkin and corn... all fresh and good. I cut into the chicken, there is grilled chicken, prawns, brie, avacado and hollandaise sauce on rice. It is GREAT! The room became quiet as we ate and drank, gee life is good! Well I didn't finish the meal but I felt great. The "Men" played pool and were happy.
There is a great variety in pub meals, from really cheap and crap with frozen veggies to over priced wanky yuppie crap. The meal we had at the Railway Junction Hotel was right were a pub meal should be, good food, fresh and of a high quality. If you are in the area you should definately make the trip out to Wolumla, you wont be dissapointed. But remeber to let them know you are coming, as it can be packed on the weekends.