Cat food bloggers unite every weekend and share photos of your gorgeous kitties with us!
If you would like to be included, just leave me a comment with your permalink! and add a "weekend cat blogging" tag to your post!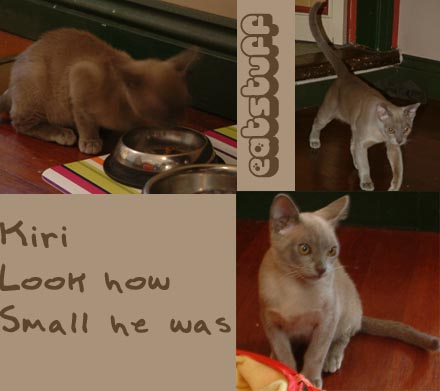 Today, I was standing in the laundry when, BOOF! Kiri Jumped on my shoulder from a meter away! Yikes. He sat on my shoulder and my head shook with the purrs that were rumbling out of his chest. He gave me a huge smooch. Oh, he is so sweet. I pulled him off my shoulder, and looked at him. I rolled him on to his stomach and measured him against my arm. When we first got him he fit into the palm of my hand, now half of his body hangs off. Where did my little kitten go? He is still such a sweet boy, he waits for us and demands a "smooch session" when we come home. He jumps up on my lap when I am on the computer for "hugs". For "hugs" he puts his paws on my chest and rubs his face angainst mine numerous times, purring the whole time, then puts both paws on my right shoulder and rubs his head against my neck. It sure make you feel special!
I decided to show you some pictures where he is much smaller..... and probably tomorrow I will post some pictures with him now. I hope you enjoy seeing just how little he used to be!
Check out
Alley cat
and her toys at
Masak-Masak
Check out the
cats in residence
at
tigers and strawberries
Check out the dignified
Gretel
catching some rays at
FarmgirlFare
Check out
Tanuki
having a rest at
A Cat in the Kitchen
(NEW!!!)
Check out the
Angry Kitty
with luxurious whiskers at
Belly Timber
(NEW!!!!)
Posted in
Weekend Cat Blogging
,
Blogging
,
Kiri
,
Burmese
,
cat
,
eatstuff